It is worth remembering that there are still absolute wrongs and rights in this murky world. Russia's aggression against Ukraine was a sickening and tyrannical move by a despot. As the war sadly becomes a normalised part of our day-to-day lives, it is critical we do not lose the initiative to pressure Putin and the Russian regime.
Scotland's new First Minister, Humza Yousaf, can seize the moment and call on the UK Government to expel the Russian consulate in Edinburgh. The move would do two things. Remind the Scottish people, and Britain as a whole, that the butchery launched against Ukraine has not been forgotten. It would also boost Yousaf's defence credentials. If he aspires to take Scotland to independence, he must prove capable of standing against international criminality.
In February last year, the SNP's former Westminster leader Ian Blackford wrote to Prime Minister Boris Johnson asking him to "kick out" London-based Russian ambassador Andrey Kelin. Scottish External Affairs Secretary Angus Robertson echoed the statement: "The idea that we should have Russian diplomats in the UK supporting the Kremlin lies about the war in Ukraine is intolerable. This is not normal circumstances, this is not a time for normal diplomatic relations. So not only should the Russian ambassador be sent back to Russia to explain the UK is not prepared to put up with what is going on, but we have Russian diplomats based in Scotland and we have to ask ourselves, 'why are these people here in support of Putin's war in Ukraine?' It is intolerable."
Robertson, who was reappointed to his role in Humza Yousaf's new Cabinet, should resume the call. And he should do this with the support of the Scottish Parliament. A year ago, Labour MSP Paul Sweeney tabled a motion at the Scottish Parliament calling for the expulsion of consul general Andrey Yakovlev from Edinburgh, which was supported by 23 MSPs.
In April last year, 15 EU nations evicted more than 200 diplomats in response to the pictures of war crimes committed in Ukraine. The UK Government defended not moving on this, saying: "Having Russian representatives in the UK allows us to deliver clear and tough messages directly to Putin's government, as the Foreign, Commonwealth & Development Office summoning of the Russian ambassador and the Ministry of Defence summoning of the Russian defence attaché demonstrated."
The Scottish Greens are sometimes unfairly accused of being weak on defence because of their internationalist disposition. In August, the party urged the UK Government to take action against Yakovlev and his staff. "Every moment the consul is allowed to stay is a slap in the face to the thousands of Ukrainians who have been forced to flee to Scotland and other parts of the UK." In their press release, the party said Yakovlev and his staff should be "banished and their official Kremlin residence at Melville Street forced to close" with "immediate effect".
The idea we need a Russian diplomatic presence to input continued grievances about Ukraine is now dated. The UK Government has already launched comprehensive economic sanctions. Under devolution, the Scottish Government has issued procurement guidance discouraging engagement with companies with ties to Russia.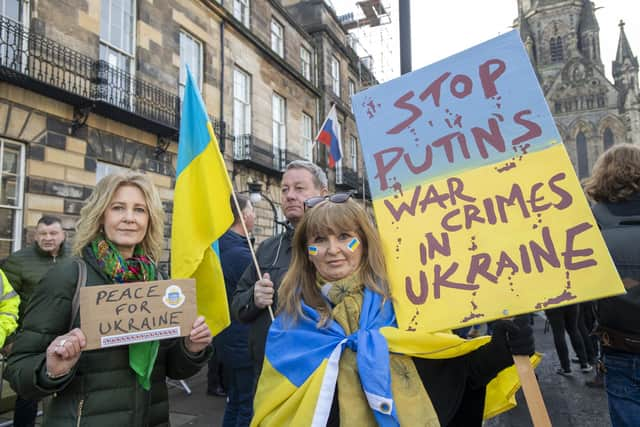 Scottish Green co-leader Lorna Slater and Green external affairs spokesperson Ross Greer have already been added to the official Russian sanctions list. They join the wide-ranging checklist, including Lib Dem leader Alex Cole-Hamilton, SNP MSP Kate Forbes and MP Ian Blackford, and former Lord Provost of Edinburgh, Donald Wilson.
In the second year of the war, much of the morale-boosting the Scottish Government can do will involve capitalising on the widespread condemnation of Russia's illegal invasion. But too often in foreign conflicts, "condemnation" sits beside "thoughts and prayers" with similarly little real impact. Shocking allegations of widescale war crimes against Ukrainian prisoners of war and civilians only confirm what everyone feels in their gut: the war in Ukraine is once again a war against an egregious, tyrannical state.
The expulsion of Russian diplomats would escalate Scotland's approach to the conflict. It would necessitate a calculated, bold move on the part of the new Scottish Government. Even an expression of desire to throw them out would help put the breaks on the normalisation of the war in Scotland as a fact of life to be tolerated. Allowing that process to continue unchecked helps Russia and undermines Ukrainian efforts to reclaim their homeland.
Ambassadorial and diplomatic services for UK citizens are reserved functions to Westminster. The Scottish Government does publish a Global Affairs Framework that sets out the values and principles underpinning its international work "and the basis on which the Scottish Government will prioritise its international activity".
It is clear in its remit to "seek out opportunities to strengthen our international justice and law enforcement relationships in order to better combat criminality in Scotland and abroad. We will focus our international partnerships with countries where we can have the greatest impact on improving human rights." The framework adds that "Scotland should be a good global citizen, making a constructive contribution to addressing global challenges".
There is scope and scale for the Scottish Government to be a global trendsetter. The country has an opportunity to lead by example and remind the world that it stands in total solidarity with the people of Ukraine. The Scottish Government must urgently call for the expulsion of Russian diplomats from Scotland.