Russia-Ukraine conflict: Fears of full-scale war show need for international talks – Angus Robertson
Tensions are rising between Europe's two biggest countries and fears are growing there might be full-on war between Russia and Ukraine.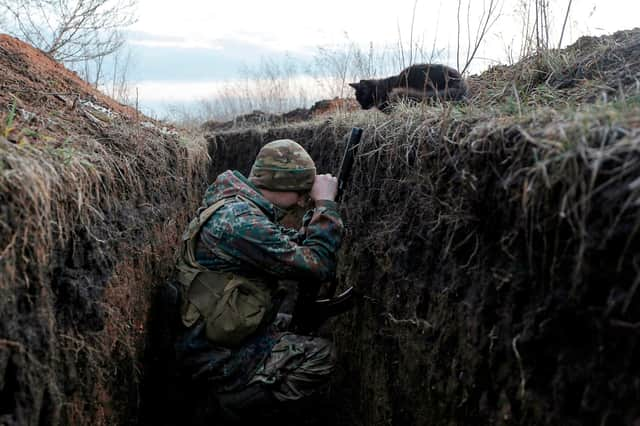 A cat looks down at a Ukrainian soldier sheltering in a trench on the frontline with Russia backed separatists near Krasnogorivka village, Donetsk region in February last year (Picture: Anatolii Stepanov/AFP via Getty Images)
The warning signs are clear to see with Moscow mobilising large-scale military forces close to the border with its southern neighbour.
For decades Russia has sought to maintain its regional influence by destabilising its neighbours. It has supported insurgencies and maintained frozen conflicts from Abkhazia and South Ossetia in Georgia, to Transnistria in Moldova and more recently in eastern Ukraine and Crimea.
In recent weeks, Russian military transports have seen thousands of troops, tanks and artillery moved to within easy striking distance of the Ukrainian border.
Moscow feigns peaceful intent while accusing Kiev of provocations and worsening relations in what looks more like a pretext for war.
This is not new for anybody who watched what happened in the eastern Donbas region and then in Crimea, where regular Russian forces operated in support of local insurrectionists.
Ukraine stresses that it has no intentions of launching an offensive to regain control of its own eastern territories.
While it has been striking a more self-assured position in relation to its Russian neighbour, it knows that it would come off badly if it came to direct military conflict.
Now is the time for calm heads to prevail and the international community to find a solution through the Vienna-based Organisation for Security and Cooperation in Europe.
Angus Robertson is the SNP candidate for Edinburgh Central at the Scottish Parliament elections on May 6
A message from the Editor:
Thank you for reading this article. We're more reliant on your support than ever as the shift in consumer habits brought about by coronavirus impacts our advertisers.