Roddy Smith: Capital economy needs real help after Covid crisis
As we are effectively now in lockdown again, our city centre businesses face more hardship and difficulties over the next month and potentially more. You cannot do anything but feel for the hospitality and retail sector who have borne the brunt of closures and restricted openings for more than nine months – the reality is now that they will have to fight through a full year of lost income before we return to any resemblance of normality.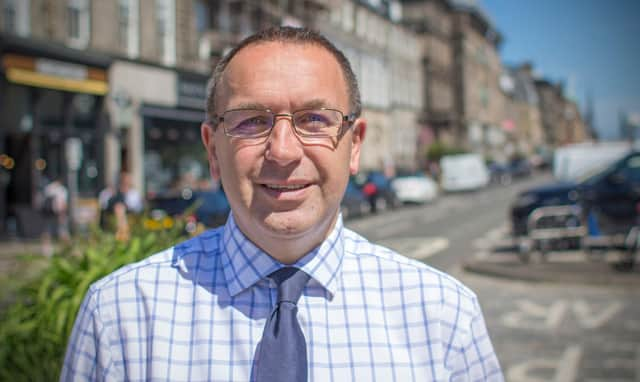 Furlough support and grants are welcome and much needed, but they are a sticking plaster and not a cure. They cannot replace the lost income, lost staff, lost Festivals and in the worst cases, lost businesses. With a vaccine now in distribution there are better times ahead but Edinburgh, as a city, needs to be prepared. I honestly believe that whether you are a resident, politician, journalist, business owner, heritage activist, culture lover, visitor/tourist or even work for a business organisation, you have an inherent desire and will to see Edinburgh return to its sociable, bustling, busy, diverse and economically strong Capital city life as soon as possible.
Over the last few months, many of these "Interest" groups have debated in different forums the merits of returning stronger than before, using the political mantra of Build Back Better or promoting using the Covid recovery to change how the city operates, especially in its relationship to our Festivals and visitors to our great city. Each of these have their merits and the work of reshaping tourism and the Festivals is under way and is always debated as we react to the external and internal factors that are constantly changing. However, nowhere in anyone's risk register were the words "global pandemic".
It is accepted that we will see less use of our public spaces for major events in the future; it is accepted that we must address climate change and sustainability in our tourism and city strategies; it is accepted that our heritage is fundamentally crucial to our city and needs protected and enhanced at all costs; and it is accepted that our citizens need to be consulted and listened to on issues which affect them.
However, our city centre economy has become increasingly reliant on business and leisure visitors and much of the new developments in the city reflect this. The employment of thousands, both directly and through the supply chain, are crucial to the city and the future of many businesses is under threat. The income brought to the city not only sustains business, jobs and our heritage, it also returns huge revenues to central and local government. The city centre retail and hospitality sector cannot survive solely on residents, the city needs visitors to return or everyone will suffer, directly or indirectly.
Now is the time to move forward and be prepared for the recovery. What collectively needs to be in place to support visitors return, both strategically and operationally, must be progressed, and quickly. No one expects numbers to return to anywhere near 2019 levels until 2022 at the very earliest, and even then, it may well take several years of steady growth to achieve anything like pre-Covid levels. So there is some time to look at all the factors I have mentioned, but city business and political leaders cannot shirk this. We have a 2030 Tourism Strategy in place, we have national elections this year and city elections in 2022, when hopefully these issues will be tackled head on, including an extended business rates holiday and the reversal of the recent Westminster decision on the abolition of tax-free shopping for non-EU residents. I look forward to the debate and the leadership needed to deliver for the city.
Comments
 0 comments
Want to join the conversation? Please or to comment on this article.