Sunak's new net-zero 'strategy' is cynical electioneering – Scotsman comment
The Prime Minister has damaged carmakers' confidence in the UK as a good place to invest in order to send a message that he is a friend of voters who don't like climate action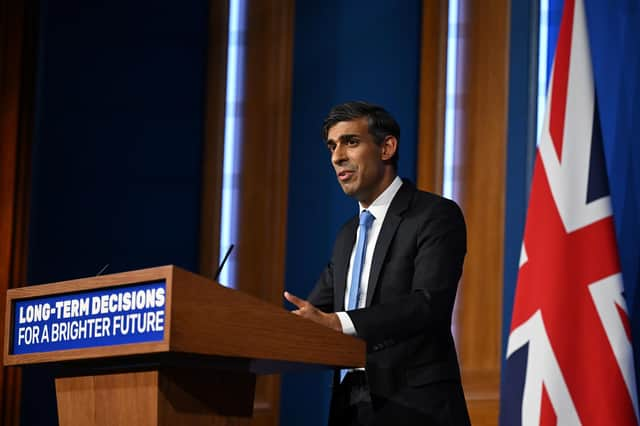 It was sold as a long-term strategy to achieve net zero, but Rishi Sunak failed to allay suspicions that his hurriedly organised speech was little more than a cynical piece of electoral short-termism. Following the Conservatives's Uxbridge by-election win, in which London's ultra-low emission zone was a factor, the Prime Minister clearly sees rolling back action on climate change as a vote winner.
Boris Johnson once promised the UK would get a 'have your cake and eat it' Brexit deal, with all the benefits of being an EU member. Sunak's brand of cakeism claims the UK can develop the green industries of the future despite clinging to the technology of the past and net zero can be achieved while fossil fuels are "maxed out".
His decision to delay a ban on sales of new petrol and diesel cars from 2030 to 2035 is particularly troubling. Sunak said he expected the "vast majority" of cars sold in 2030 would be electric, but that a ban would be wrong given families are struggling with the cost of living. However, new car sales make up only about a fifth of the total, poor people don't usually buy them, and second-hand petrol cars would have been available. The delay seems more about political messaging that Sunak is a friend of voters who don't like climate action, at the cost of damaging carmaker confidence in the UK as a place to invest.
He said the UK's share of global emissions was under one per cent, as if this is insignificant, but our population is also less than one per cent of the world's. If humanity divides itself into small enough groups, they can all delude themselves that their actions don't matter. Sunak did, however, have a point about setting targets without a workable plan to achieve them. The transition from gas boilers to heat pumps has relied too much on optimism.
But the good parts of his speech were overshadowed by a bleak reality: Sunak's Conservatives will fight the next election on a platform designed to appeal to those who think climate change is overblown. And this new movement may gather its own momentum.
Comments
 0 comments
Want to join the conversation? Please or to comment on this article.