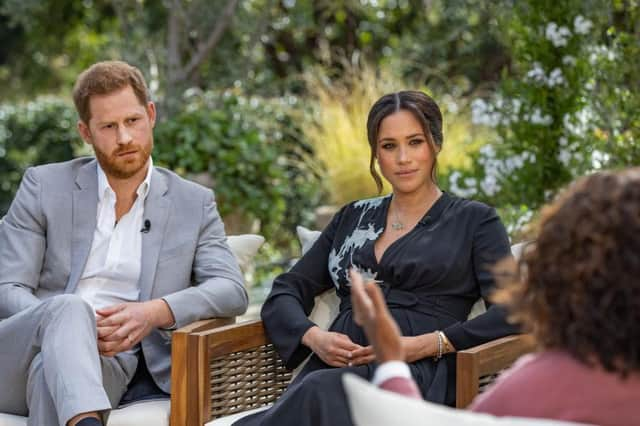 On the other side is a realm of fantasy where nothing that really matters matters, where politics truly becomes no more than show business for ugly people, and where – when reality occasionally rears its ugly head – the victims are always more guilty than the perpetrators, whose sheer malevolence often guarantees their instant celebrity status.
This was a week that began, after all, with International Women's Day, and ended with a 21st century police force, in the UK's capital city, telling women to stay off the streets of their own city at night, the better to protect themselves from being raped and murdered.
It was also the week when Oprah Winfrey's interview with Prince Harry and Meghan Markle was deemed by large swathes of the British media to be not only the top story, but almost the only story, of the early part of the week.
It was the week, too, when the second most important story – before the news emerged of the tragic disappearance of Sarah Everard – appeared to be the petulant departure of former Daily Mirror editor Piers Morgan from his role as anchor man of Good Morning Britain, the main ITV morning news show, after he unleashed an on-air barrage against Meghan Markle that attracted more than 41,000 complaints. In the aftermath of his departure, shares in ITV lost five per cent of their value.
Now of course, the classic response to all this, from people who care about politics, is to dismiss it all as trivia, not worth the attention of serious policy analysts.
In truth, though, this week's overwhelming focus on the royal crisis and on responses matters profoundly, in at least two ways. In the first place, in its implicit sense of priorities, it simply replaces the kind of news that is the lifeblood of democratic decision-making – news about Brexit, or the impact of last week's budget, or the catastrophic humanitarian crisis in Yemen – with news that is largely symbolic and theatrical, designed to invite people to take sides and yell their heads off like toddlers in a playground spat, rather than to sit around like adult citizens debating the nuances of practical policy.
At the moment, for example, the policy charge-sheet against Boris Johnson's UK government is almost limitless, ranging from multiple incidents in which parliament has been misled over the awarding of Covid-related contracts, to its current ludicrous assertion, despite spending like a drunken sailor in other areas, that it "cannot afford" £1-2 billion a year to provide decent pay-rise for NHS staff.
Yet these issues currently have so little salience with voters that the Conservatives leapt to a commanding 13 per cent lead over Labour in one post-Budget opinion poll, and have even regained some support in Scotland; in a kind of enthusiastic nationwide embrace of amnesia and unaccountability that renders any real progressive politics at national level all but impossible, and contrasts vividly and painfully with the vastly higher standards to which Nicola Sturgeon's Scottish government is currently being held.
As recent US politics reminds us, though, this smokescreen effect is only one aspect of the impact of news coverage dominated by celebrity culture wars; because it is increasingly clear that this kind of coverage, extended for long enough over a large enough field of public debate, does eventually begin seriously to empower those who want to roll back the gains made in human equality over the last century.
White supremacism and the Republican Party's open assault on voting rights in black and disadvantaged communities, a serious resurgence of theories involving the "natural" subjection of women to men, attacks on essential, practical women's rights – all of these have been encouraged by the retreat of a politics based on social and economic realities, and the rise of a politics based on cultural side-taking.
And we would be fools to imagine that politics in post-Brexit Britain could not very quickly take the same turn; indeed arguably, it is already doing so.
As Piers Morgan stalks from his studio after a row over racism, BBC royal correspondent Nicholas Witchell trembles with rage at Harry and Meghan's lese-majeste in rejecting their royal life, Covid deniers and mask-refusers run riot in Glasgow to celebrate a football victory, and some social conservatives in the Scottish independence movement make it clear that they would rather tear that movement apart than let Nicola Sturgeon lead it any further, the dinosaur roar of social reaction is now to be heard everywhere across Britain, echoing through social media and across the mainstream; and it will leave none of us untouched.
Many take comfort, of course, in the idea that the young are different, and will eventually have none of this reborn racism and sexism, this renewed hostility to LGBT rights, or the required deference to the monarch and her family – and hence to the British state – that still appears as some kind of norm in British public life.
Yet young people grow older; and unless they rapidly find ways of completely reshaping the environment in which politics is discussed, they will find themselves living in a world where the noise of these backward-looking battles – trumped up in every sense of the word – increasingly obscures every national conversation that might offer a real future to them and their children; the debates about climate change, our very survival, and the elementary social and economic justice that makes societies sustainable, on which we should now be focusing all our attention, if we truly care more for the future, than for the prejudices and privileges of all our yesterdays.
A message from the Editor:
Thank you for reading this article. We're more reliant on your support than ever as the shift in consumer habits brought about by coronavirus impacts our advertisers.
If you haven't already, please consider supporting our trusted, fact-checked journalism by taking out a digital subscription.