Providing the benchmark for improving mental health - Jim Hume
Change Mental Health is celebrating providing support and services for those with mental illness across Scotland for 50 years and has recently joined with Breathing Space in their initiative to mark the 50th Take Some Breathing Space Bench in the Highlands at Golspie.
Change Mental Health's service in Golspie, The Gatehouse, is a safe and comfortable resource centre for people who are affected by mental illness to access support through one-to-one and group support. The service offers a diverse timetable to promote activities with peer support and wellbeing sessions to help build self-esteem and confidence. The Gatehouse also operates as a hub for staff to deliver outreach support to those in East Sutherland.
Change Mental Health have been supporting people with poor mental health for 50 years and we are delighted to partner with NHS 24 to mark this occasion with Take Some Breathing Space's 50th bench here in the Highlands.
Change Mental Health is dedicated to supporting people with their mental health across Scotland and this bench helps promote mental health awareness in the community to ensure we're building a future where no one needs to face mental illness alone.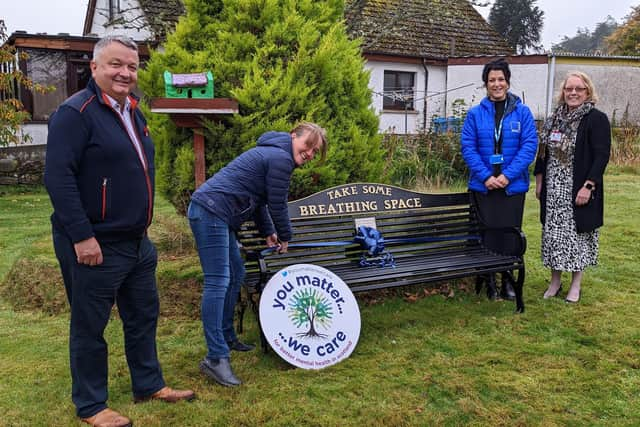 The Breathing Space Bench Initiative is about welcoming spaces, encouraging people to:
sit and take some breathing space share a bit of time for listening and talking reach out to show kindness and compassion
The first bench was installed in Troon in February 2018 in partnership with Ayrshire Health Improvement Team.
In 2022, the milestone of 50 benches was achieved at Golspie in Highland, in partnership with Change Mental Health – previously known as Support in Mind Scotland. The network now reaches from Golspie to Dumfries.
The benches are at home in city centres, seaside spaces, community gardens, country parks, train stations, new housing developments and Musselburgh golf course. Placed in strategic spots, they offer a quiet space for passers-by to find time for their health and wellbeing.
One of the people who have used the benches have said: "Taking in the view from the Breathing Space bench in Troon can help your wellbeing and keep you in touch with people in your local community. It is in a perfect position."
Tony McLaren, National Co-ordinator at Breathing Space, said: "With these benches, we want to spread a bit of positivity, and encourage people to make a difference to others by reaching out and showing kindness and compassion. We also want to make people aware of our helpline, so they know they have someone to turn to if they're struggling to cope.
"Sitting alongside someone can be an easier way to bring up difficult conversations and being outdoors supports our mental health. If anyone feels the need for a chat beyond the bench, then Breathing Space are here for you. We encourage anyone to call on 0800 83 85 87 or use web chat from breathingspace.scot"
Change Mental Health's Information and Support Line can be contacted on 0300 323 1545 or by email [email protected]
Comments
 0 comments
Want to join the conversation? Please or to comment on this article.