Promoting our historic city centre is vital for Edinburgh's recovery – Roddy Smith
Roddy Smith says if any city has the ability to adapt it's Scotland's capital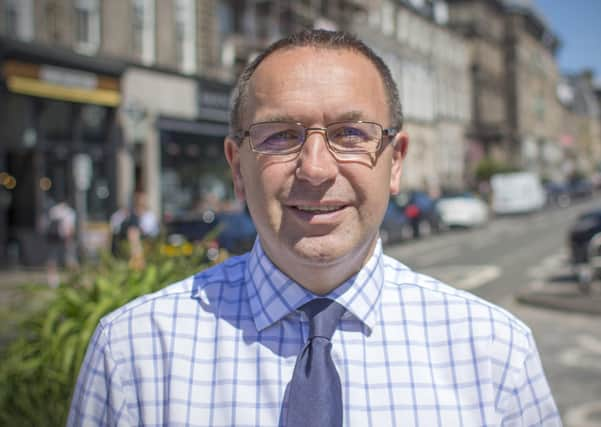 This summer's been like no other in living memory for our city. Virtual Festivals replaced in-person events, tourist numbers have reduced exponentially, office workers are still mostly working from home and residents of the city have had to live unrecognisable lives from years gone by. The Covid pandemic will be here for months maybe years to come, we must adjust our lives to live them safely whilst also returning to some aspects of normality.
Our city centre has suffered more than other areas in the city. No office workers and fewer tourists have left hospitality and retail facing an uphill struggle whilst initiatives like Shop Local have further enticed workers to stay closer to home. The fantastic Forever Edinburgh campaign has made a start at promoting the city again and whilst we have seen increased footfall in recent weeks, we are still working at up to 75 per cent less than in previous years. There is evidence that those residents and tourists visiting the city centre are spending more, maybe a result of lockdown savings and the difficulties in holidaying abroad.
Home working for many has been very successful, with no drop in productivity, a healthier work/life balance and time and money saved by not commuting. Many workers are being surveyed by employers about their preferences for office/home or blended working practices and it's no surprise the majority of staff prefer more time away from the office than in it. If productivity is not affected, it is a hard argument to disagree with. However, it is already having and will continue to have a detrimental effect on the areas around our offices. Hospitality outlets, coffee and sandwich shops, delis will suffer as will retailers that rely on the workforce dropping into their stores during lunchtime or after work. This will have equally as large an effect on city centres as the lack of tourists.
Politicians and employers are faced with difficult conundrums around when they can bring workers back to office environments safely, and they are rightly fearful of a second wave or other repercussions of returning too soon.
However, we have managed to bring back hospitality, construction, retail and other sectors – now is the time for a concerted debate about the practicalities and need to bring office workers back, as long as this can be done safely and to public health guidelines, to delay further will have long term repercussions for local jobs, retail and hospitality sectors in the city.
Edinburgh will remain an immensely attractive investment opportunity as the city adapts to a world of changing retail, hospitality and now potentially office needs. If any city has the ability to adapt to meet the needs of its residents and visitors, it is Edinburgh. Our standing as a superb home for business and tourism and a hugely attractive place to live or study makes our future bright.
We can never be complacent though, and now is the time to be bold with planning, imaginative with embracing change and being ready to take advantage of the post COVID world. #ForeverEdinburgh
Comments
 0 comments
Want to join the conversation? Please or to comment on this article.