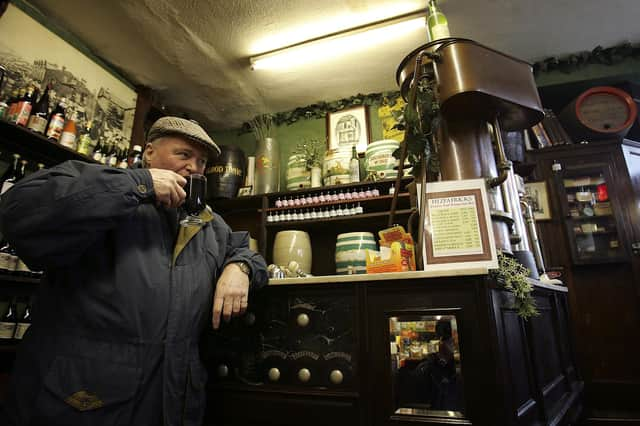 Are temperance bars serving herbal brews like dandelion and burdock set to make a comeback? (Picture: Christopher Furlong/Getty Images)
At some point, life will return to normal. The history of previous pandemics tells us that people bounce back, and with a vengeance. Life is not just embraced, it's seized, snogged and sozzled.
And there are times when I get the impression that some people in Scotland's government are just a tad sneery about pubs reopening. There is the distinct whiff of the Band of Hope around the press briefing lecterns.
For those unfamiliar with the Band of Hope, known in Glasgow as 'Bandy Hope', it was the SAS of the 20th-century Temperance movement. A Swat team tactically taking on the evils of alcohol armed with tea, digestive biscuits and rousing hymns like Deep and Wide. Some of you winced when you read that and the tune started up in your head. Sorry.
I was a Bandy Hope child. A fearsome thumper of tambourines and signer of Pledges that I would not touch alcohol for five years. I was six at the time.
Like many a ferocious adherent to a cause, I fell out of love with Temperance, about 15 minutes after I turned 18, I think, and became a convert to white wine, gin and good malt whisky.
There's a chill of the Manse and Sunday School about the decision-makers at the mention of bars and restaurants. I'm starting to think they like the purveyors of the devil's brew and the sellers of Satan's soup (sorry, flashback there to Bandy Hope days) being closed and Scotland becoming a nation temperate in habit.
Alcohol-free drinks like sarsaparilla wine were popular in temperance bars (Picture: Christopher Furlong/Getty Images)
There's a tight little smile when the subject is raised. What is not to love about a sober nation and quiet streets at night?
Be careful my fellow Scots, we've got form on this one. An early referendum in the UK was us, back in 1920, voting to make bits of Glasgow dry.
Some areas stayed dry until the 70s. We must keep watch. If we discover a huge government order put in for tambourines, I warn you – get those bathtubs ready, we've got gin to make.
A message from the Editor:
Thank you for reading this article. We're more reliant on your support than ever as the shift in consumer habits brought about by coronavirus impacts our advertisers.
If you haven't already, please consider supporting our trusted, fact-checked journalism by taking out a digital subscription.