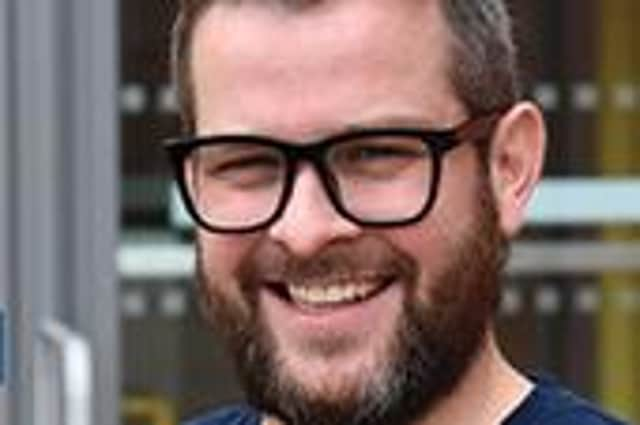 Chris Smith is a Maths teacher in East Ayrshire.
However, as the Covid-19 pandemic continues, schools have had to make the difficult decision to close to most pupils again and we find ourselves back to teaching online. There is no doubt that schools and teachers across the country have had to adapt quickly to changing circumstances. But as a teacher you need to be able to learn new skills yourself and remote learning has undoubtedly highlighted new and exciting opportunities to explore how we teach.I never expected that live lessons could come close to the real deal but my first video lesson with my Advanced Higher class was an absolute treat. We were all getting used to the technology, but it was a joy to see the students and have them chipping in answers, asking me to re-explain bits - and even pointing out the odd mistake in my work, made the whole experience as close to genuine classroom teaching as it could be. The workload for teachers at the moment is considerable, with the planning involved in remote learning and the steady stream of notifications and submissions from every class, but from what I've witnessed the teaching profession is rising to the challenge.
An online survey commissioned by the Scottish Government, with YouGov, has found that teachers are even more valued now than they were before the Coronavirus (Covid-19) pandemic. Two-fifths (40%) of Scottish adults said that they value the role of primary and secondary school teachers more than they did previously, whilst two in ten Scottish adults (20%) said that they have learnt something new about being a teacher in Scotland since the first lockdown in March.
Chatting to parents they're overwhelmingly grateful for the hard work teachers do, day in day out, and the positive impact that we have on their kids. It's always encouraging to hear that teachers are valued members of society and it's absolutely right that they are respected because of the key role they play in developing the young people who are the future of Scotland.
I fully support the Scottish Government campaign aimed at encouraging young people to pursue a teaching career in Scotland. There are many professions and industries that are struggling right now, but teachers have job security, and this is something I don't take for granted.
I love being in the classroom - inspiring and helping improve the lives of young people and I strongly believe that there is no comparison to being in front of the kids in person. Teachers do so much more than pass on subject knowledge. We help young people learn actual life-skills like socialising, resilience, and problem solving - things that will stay with them throughout their life. New teachers maybe don't realise the impact they'll have in developing not just the academic dimension of their students but also their confidence, personality, and character.
Maths teaching is pretty much the dream job for me as there are so many exciting opportunities and every day is varied with different stories to tell. I hope soon that we will back in the classroom and face-to-face teaching again, but for now it's a privilege to see the kids mature, flourish, and grow into young adults during what has been a very challenging time.
I would urge anyone who is thinking about a career in teaching in Scotland to check out teachinscotland.scot.
Chris Smith is a Maths teacher in East Ayrshire