Prince Philip: Too much coverage? In truth a period of national mourning is needed by us all - leader comment
The loss of a loved one is something with which far too many of us have had to contend over the last brutal year.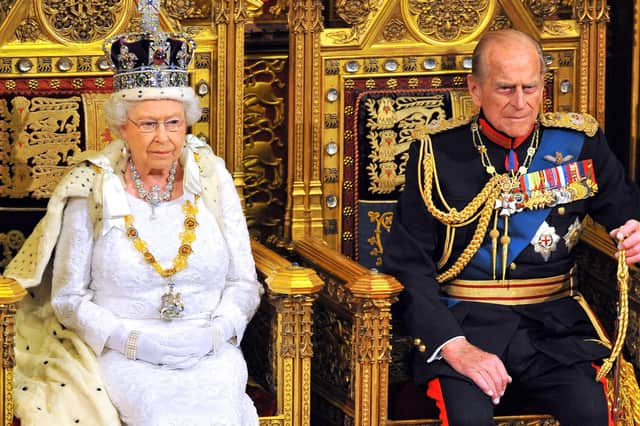 Queen Elizabeth sits with Prince Philip, Duke of Edinburgh as she delivers her speech during the State Opening of Parliament in 2004
The fact they may have reached a grand old age does not temper the grief. It leaves a hole in your heart which cannot be filled.
So amid the outpouring of tributes and commemorations of Prince Philip's long, devoted and colourful life, we should remember that at the centre of this is a family who are mourning, and in particular the Queen who is coping with losing her husband, and constant support, of 73 years.
A brave public face does not mean the grief is being any less keenly felt by members of the family.
And it is in these times that wherever you stand on the Royals whatever your views on the constitution, that we can recognise and empathise with the sorrow of fellow human beings.
We saw that yesterday with the comments of Prince Andrew and Prince Edward as they left church.
Much has been written about the claims of 'too much coverage' of the duke's death, the BBC even set up a dedicated page allowing people to complain.
But as the Duke of York said yesterday the death of his father has brought home to him the loss that everyone else who has mourned loved ones in the pandemic has felt.
They are not immune to bereavement.
They are a family grieving for a loved one - a father, grandfather and great grandfather, like so many others in the past year.
In different circumstances perhaps, but the pain is just as real. We can all recognise that loss and respect the Queen's right to privacy as she grieves despite the very public nature of events.
As families across the country have tragically had to do, the Royals are rallying round and supporting each other through this most difficult of periods.
And they are doing so while the eyes of the world are upon them, hanging on their every word or action.
Has there been too much coverage of Philip's death?
That very much depends on your own point of view, but in truth, after the year we have just been through, a period of national mourning is needed by us all.
Want to join the conversation? Please or to comment on this article.