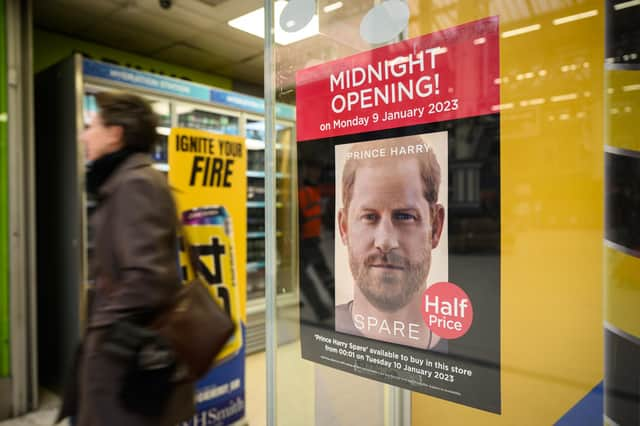 For 200 years until 1617, the Turks had a decisive way of dealing with fraternal rivalry from siblings of the new ruler; they executed them. While effective for avoiding civil war, the reason the law was introduced, it did nothing for lineage and was abandoned when the new sultan was a 13-year-old boy with no heirs. From then until the collapse of the empire in 1922, they simply locked them up.
It's unlikely Prince William would like to see Kensington Palace turning into a plush Belmarsh for his brother, although if Prince Harry's tales of his temper are to be believed then some sort of violent reaction to his lurid allegations wouldn't be much of a surprise. After all, not many men would be sanguine after their brother had trashed their reputation, and that of their wife, father and step-mother on national television.
But the depth of the bitterness Prince Harry has expressed towards his family and the flame-thrower he has taken to his erstwhile military family by his quite insane claims ─ ill-judged doesn't quite capture it ─ about the deaths in Afghanistan for which he was responsible mean his luxurious Californian home is now a place of philosophical as well as physical exile. It's hard to see a way back for someone who has accused the heir to the throne of assault and the Queen Consort of being "dangerous".
The irony of his accusation against Camilla is that she didn't need contacts with the media to improve her public image; and it was no secret that Prince Charles and his advisers saw the need to address her acceptability if she was ever to marry the future King. Even beyond the Fleet Street bubble, editors were invited to lunch with Charles and to meet Camilla to see how the couple were with each other in a private setting. I know because I was one of them. At a Holyroodhouse meeting, William was also present so we could see relations with her future step-son were warmer than formal.
The double standards and total lack of self-awareness Harry has displayed in his boo-promoting media rounds, can perhaps be mitigated by the clearly ongoing trauma of the circumstances of his mother's death, but it doesn't detract from the hypocrisy. It's all the media's fault, he tells Oprah Winfrey, CBS's Anderson Cooper, ITV's Tom Bradby and ABC's Michael Strahan, as if they are not part of the media too. Or that his mother was not the direct primary source of the sensational information in her biography by journalist Andrew Morton, who made his name on the News of the World and the Daily Mail.
If any of his answers on Sunday night didn't contain an attack on the media I must have missed them, but it's striking he does not recognise that the media in all its guises is inextricably linked to the modern monarchy, or that it's entirely responsible for Meghan Markle's rise to prominence. The "media" is not the plaything of the rich and powerful to be turned on and off by royal decree or, in the case of Russia and Iran, by despotic force of arms, and in a free world the press is entitled to seek and publish information about how those who live lives of great luxury and continued deference only by public consent. The deal is that with the vast privileges comes accountability, a word he favours greatly, and an acceptance that there is a public interest in understanding how they lead their lives and the "media" is the conduit, of which he is taking full advantage.
But the more extreme the revelations or claims, the less alluring the whole thing becomes. He is, as one writer put it this weekend, like Toto the dog pulling back the curtain on the Wizard of Oz. The problem is he's shattering his own illusion, not just that of his family. There is no magic, just an unhappy man putting personal problems ahead of the constitution; no cute, innocent little pup, but a self-entitled, damaged little rich kid bemoaning his lot from his exile in the sun while the rest of us wonder how big the electricity bill is going to be.
But let's imagine Harry is successful in his quest to limit freedom of expression by "reforming" the popular press, or rather the one or two titles he particularly despises. He has married a Hollywood actress and lives in a country with far fewer restraints on "tabloid" journalism than the UK; the paparazzi on the tail of the drunk driver behind the wheel of the car in which his mother died were from international agencies; and details of his first tour of duty in Afghanistan were revealed by an American publication.
He forgets the British press agreed not to reveal any details about his Afghan service and honoured that in full so he and his colleagues would not become targets, in the way he has just done, and he could complete his tours in as much safety as possible. Pictures of his topless sister-in-law on holiday? Taken by a French photographer, published in Italy, France and Ireland, but not here. In other words, no matter how much he rails against the Daily Mail, his issues with the press will not go away because the interest is international. It's a game of whack-a-mole he can never win, and now he has fired all his shots he's no-one else to blame.
For demons, he need look no further than the mirror, and maybe an Ottoman cage is the safest place for him.