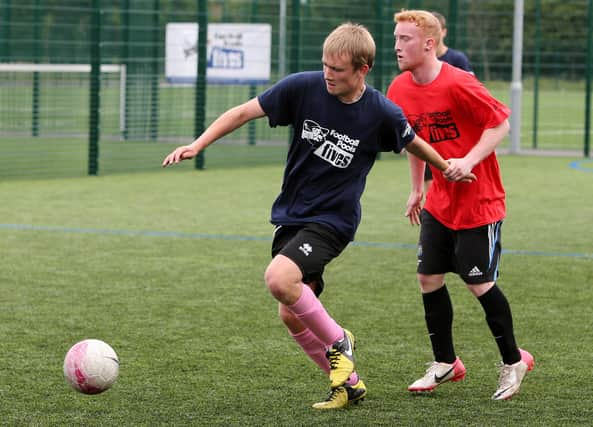 It is my belief that sport is a force for good that has consistently been chronically underfunded for too many years. We are not just preparing our children for sport, we are preparing our children through sport (and in that regard I would suggest that music and the arts can deliver similar outcomes).
The current Covid-19 crisis has brought home to many what life is like in the absence of sport in nearly all its forms; from fans going along to a football match, shouting at each other for 90 minutes and then going home, to taking our children along to play for the school on a Saturday morning, organised club sport or a swift game of five-a-side of an evening between deceptively slow friends (you know who you are!).
However, during a recent study into the effects of Covid-19 on Scottish sport by the Health and Sport Committee, some alarming statistics began to emerge. Some 75 per cent of those surveyed stated that they had reduced or significantly reduced their physical activity. The same percentages suggested that their mental and physical health had suffered as a result and that communities had been negatively affected.
Early on during the Covid-19 crisis, it was notable how many family groups were seen walking or cycling as they took their daily exercise together. That is an outcome that we should certainly try and hang on to as we move towards the easing of lockdown restrictions. Family time such as this is invaluable and was becoming a lost activity.
However, I want to discuss the importance of organised sport and its crucial role in building community spirit as well as its ability to tackle, what is a huge looming issue – the physical, mental and emotional health of our people.
The mental impact of Covid-19, resulting from isolation, worry and huge overnight life changes, is readily acknowledged. Re-engaging with community activity through physical activity will be a vital in the rehabilitation of our society. Indeed, SAMH, a national, mental health third-sector organisation, are very vociferous in their promotion of physical activity in tackling poor mental health.
We will need to recognise the way in which we organise and participate in sport will change, at least in the foreseeable future. It needs to be understood that, as we move through a relaxation of lockdown, we will do so with Covid-19 still among us.
Sports governing bodies and ams-length external organisations, knowns as ALEOs, will and are planning ways in which they can adapt their offer to deliver access to the sports we all love.
This is where the Scottish government must step up to the plate and support our governing bodies, councils and ALEOs. It will take significant investment to counter the issue of a significant drop in club membership, both participants and volunteers.
A whole year of recruitment and participation has been lost. We are creatures of habit and sports participation falls into this category. Many have fallen out that habit.
I fear that, without a recognition of the need to plan for the potential health issues arising from the lack of activity, this issue will go unaddressed until it becomes the next crisis.
Covid-19 has demonstrated starkly the impact that health has on the economy. I have pushed this with the Scottish government during my entire time in the Scottish Parliament and it is a message that is just not cutting through.
If we want to tackle Scotland's poor health record in obesity, diabetes, chronic obstructive pulmonary disease (COPD), heart disease, poor mental health and addiction crisis then access and encouragement into physical activity is central to that ambition.
There is a huge inequality of access to sport and physical activity with poor local community facilities, underutilised sports school estates and access to green spaces exacerbated hugely by the Covid crisis.
Sport is an investment, not a cost. There are significant returns available on that investment if the appropriate resource is allocated.
A cross-portfolio plan that links communities, schools and governing bodies is the only way forward. I am yet to see any evidence that the Scottish government recognises and understands how important this issue has been and is going to be post-Covid.
Brian Whittle is a Scottish Conservative MSP for South Scotland, shadow minister for public health, mental health, well-being and sport, and a former Olympic athlete. He won a gold medal in the 4x400-metre relay at the 1994 European Athletics Championships.
A message from the Editor:
Thank you for reading this article. We're more reliant on your support than ever as the shift in consumer habits brought about by coronavirus impacts our advertisers.
If you haven't already, please consider supporting our trusted, fact-checked journalism by taking out a digital subscription.