Police Scotland's political independence at risk because of swingeing budget cuts – Tom Wood
Now, in the first week of the year, is the time we usually take stock, reflect on the past year and look forward to the challenges ahead.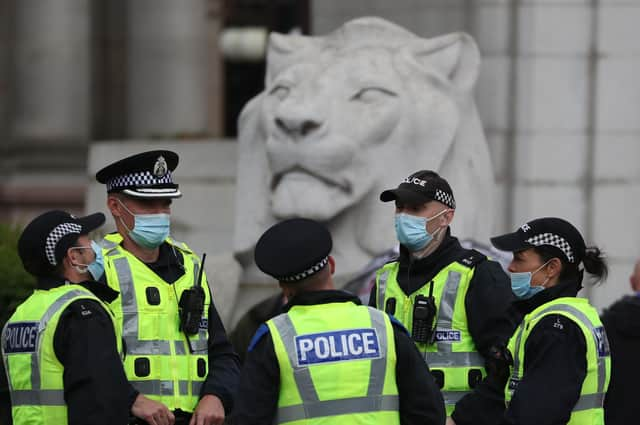 Operational independence is central to Scotland's policing model but the forces financial difficulties means it must go to government 'cap in hand', says Tom Wood (Picture: Andrew Milligan/PA)
Last year was one which proved the old axiom that plans rarely survive contact with reality. It confounded everything but, all in all, Police Scotland can take some satisfaction from a steady performance.
It would have been easy to go over the top in enforcing the ever-changing lockdown provisions, but so far a deft touch has maintained, for the most part, the delicate social contract between the police and the communities they serve.
But what of the coming year? Like all emergency services, the police are constant hostages to "events" that, as in the year past, often come as big battalions. But amongst the unknowns there are some challenges that can be counted on.
We can be sure cybercrime will continue to grow, the last year was good for online chicanery with reports increasing by 140 per cent and this is undoubtedly just the tip, so it will be a huge iceberg.
Then there's the delayed UN climate change conference coming to Glasgow in November with world leaders plus the usual cast of activists, anarchists and hangers-on. The biggest event staged in the UK in living memory will prove the ultimate operational challenge.
Some toxic legacy issues may reach a conclusion. A prosecution is pending over delayed police attendance at the tragic car crash that killed two young people on the M9. Then there is the ongoing public inquiry into the death of Sheku Bayoh, the young black man who died in police custody in 2015. Since Lord Bracadale's inquiry is ongoing, least said, but it is worrying that propagandists are hard at work. Those who see the world only through a lens of racism are determined to smear the very fabric of our police service as institutionally racist. The sooner we find out the whole truth in this tragic case, the better.
But perhaps the greatest threat facing policing comes not from crime or operations but the dust-dry business of funding. Be in no doubt, it is under serious threat from a long-term structural funding deficit.
The problem is rooted way back in the 2013 formation of Police Scotland. One of the drivers of that reform was cost-savings. It was planned to strip out over £1 billion from the overall budget by 2026.
Bad enough, but over the first seven years of this plan, our civil servants have been over-zealous. On the currents trajectory, by 2026, the overall police budget will have been reduced by over £2 billion.
And there is more to it than that. Operational independence is central to our policing model. But, as it stands Police Scotland cannot live within its budget. This year there will be a deficit of £44 million and to cover this overspend requires an annual 'cap in hand' visit to St Andrews House. It is not a situation conducive to long-term planning or true independence.
We rightly expect much of our police service and when they fail they must be held to account. But in return they deserve a workable financial settlement that allows them to do their duty without fear or favour.
Tom Wood is a writer and former Deputy Chief Constable
A message from the Editor:
Thank you for reading this article. We're more reliant on your support than ever as the shift in consumer habits brought about by coronavirus impacts our advertisers.
If you haven't already, please consider supporting our trusted, fact-checked journalism by taking out a digital subscription.
Want to join the conversation? Please or to comment on this article.