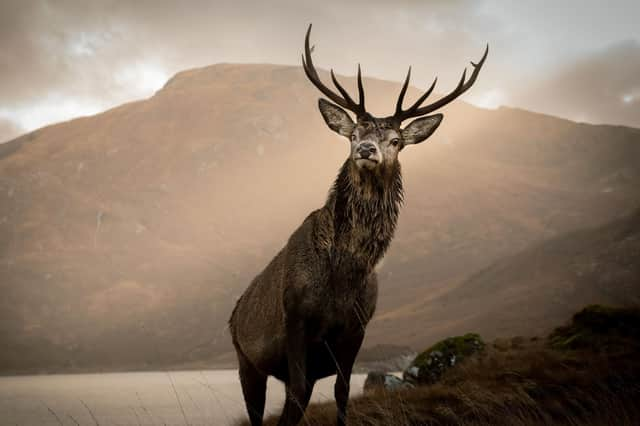 A majestic stag by Loch Quoich near Kinloch Hourn in the western Highlands (Picture: Dean Allan/SWNS)
At one time, deer were universally considered a natural asset. Their presence was marvelling, especially against the picturesque backdrop of the Scottish Highlands. A majestic creature in its rightful place.
There was something romantic about this animal. Sir Edwin Landseer, the artist behind the world-renowned Monarch of the Glen painting, arguably helped to establish the red stag as a cultural icon.
The Monarch became a symbol of grandeur; a symbol of the Highlands; a symbol of Scotland Landseer's art meticulously encapsulated the magnificent qualities of the red stag in their glory for all to see.
Perhaps those who most revere Scotland's deer, though, are those who are charged with their management. In essence, those charged to kill.
Ironic? Perhaps at first glance. After all, you surely must have to loath deer to kill them?
Those charged with managing deer are the men and women who see and observe deer more than most. Their appreciation and respect extends far beyond what Landseer famously captured in 1851. Their intimacy with deer is unrivalled.
Deer numbers have to be controlled, but the process should be fair and respect their welfare, says Ross Ewing (Picture: Dean Allan/SWNS)
Deer stalking is as much an art form as it is a vocation or recreational pastime. Practising it gives you a transcendent appreciation of the secrecy of these mammals, their circumspect behaviour and unique capacity to evade your crosshairs or binoculars.
To succeed you have no choice but to become highly skilled, for your opponent is formidable with far superior sensory capacities. Such challenge drives an abiding respect. Deer are truly remarkable, and you'd be a fool to underestimate them.
And that is why the Scottish government's response to the deer working group report – hurriedly published on the last day of the parliamentary term among a copious number of other forgotten publications – roused such anger from those who know deer best.
The level playing field upon which modern deer stalking is founded is about to be unlevelled in the most scandalous way.
The motive? So that deer can be culled faster, for longer and in greater numbers by a handful of people. Why? To protect trees and biodiversity, of course.
Few deer stalkers have any contention with the reasons. We all understand that deer must be managed to protect forestry interests. Such management is vital if Scotland's Forestry Strategy – which aims to increase forest cover to 21 per cent by 2032 – is to be achieved.
But what we categorically do not accept is blatantly cheating the system by removing the core rules of the game that protect the welfare of our iconic deer.
There have to be other ways of addressing 'the deer issue' other than relying continually on contractors, normalising night shooting, abolishing the close season for male deer and refusing to rule out shortening the female close season in the future.
Do we really want to live in a country where we cut corners – at the expense of deer welfare – to cull more deer more often?
I accept that we need to do more to manage Scotland's deer population. In our manifesto for the Scottish Parliament elections, we argue that enhancing public participation in deer stalking is a vital part of the solution.
Greater participation means more boots on the ground engaged in the management process, which should, in turn, mean more deer are culled.
Call me radical, but why can't we follow Norway's example and train 12 per cent of our population to hunt? Why isn't the government pushing for that instead of reducing deer welfare standards to make it easier for an unlucky few?
We point to an existing low-cost deer stalking scheme on the Island of Arran – managed in partnership by the British Association for Shooting and Conservation (BASC) and Forestry and Land Scotland (FLS) – as the kind of replicable scheme that could help achieve a more sustainable future.
The Arran scheme brings recreational stalkers from across the UK to the island for a unique stalking experience. Deer are managed sustainably, and the local economy reaps benefits, too. Around £82,000 is injected into the Arran economy over a nine-week period.
It would be great to see more Arran-style schemes set up on public land, but there doesn't have to be a strong tourism dimension to each scheme. We're all for local stalking syndicates taking on the management, too. All options should be considered in order to move away from perpetual reliance on expensive contractors and licences for extraordinary management.
The point here is relatively simple: I would much rather live in a country where more trained folk play a role in managing deer in season and during the day, than a country which seeks to make the management of deer as easy as shooting rats in a barrel.
The former is sustainable. It protects deer welfare; it puts more people in touch with where their food comes from; it makes more people aware of the impacts of deer on the environment; it makes more people part of a shared solution.
The latter is grotesque, and an affront to the ethical and sustainable pillars upon which modern deer stalking is founded.
We must not move to a situation in which contract culling and night shooting are the norm; where stags and bucks are being culled in awful condition; where heavily pregnant hinds and does are being shot; where dependent youngsters are being left without mothers.
That, in a country where animal welfare is supposedly a priority and where there is a newly established Animal Welfare Commission in place, would be an aberration of the highest order.
Come on, Scotland, we owe it to our deer to do better.
Ross Ewing is the public affairs manager for the British Association for Shooting and Conservation (BASC) in Scotland
A message from the Editor:
Thank you for reading this article. We're more reliant on your support than ever as the shift in consumer habits brought about by coronavirus impacts our advertisers.
If you haven't already, please consider supporting our trusted, fact-checked journalism by taking out a digital subscription.