Paul Coffey: Crisis a foretaste of how 5G could revolutionise healthcare delivery
Covid-19 has had a colossal impact on NHS hospitals and our emergency services, but it has also caused a shift in the way routine appointments, GP practices and non-emergency care is delivered. Recent data collected by the Royal College of GPs highlighted that in recent weeks up to 70 per cent of consultations have been carried out by phone or video call – a basic type of telemedicine which has never been so widely adopted.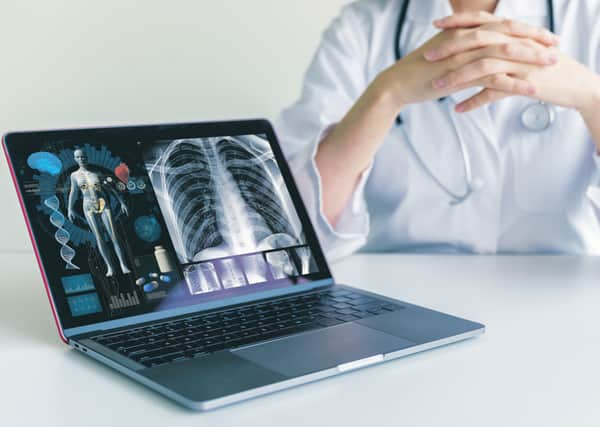 The current crisis has highlighted significant opportunities to help people using telecommunications technology, and in no area is that truer than healthcare. Despite the misconceptions from some about 5G and its impact on human health, it could in fact underpin a wide range of innovations that will support medical professionals in the delivery of patient care.
The effectiveness of remote healthcare relies on the ability to communicate and gather data required to inform a patient's diagnosis or treatment. Reliable, 5G mobile networks could be the catalyst for this remote approach to continue and evolve, strengthening links between healthcare providers and rural communities. Upgrading from 3G or 4G to 5G offers much more than faster internet speeds; new networks can provide more secure and reliable communications channels required to handle the sensitivities of a digital health service.
Healthcare professionals have long stressed the importance of shifting resources towards preventative community-based care, reducing reliance on centralised expertise, such as hospitals. 5G could change the way people across the country access NHS services; but, for those most at risk and those in remote communities, in particular, there is an opportunity to explore how remote monitoring and communication technology could support current care models. It could ultimately reduce the need for hospital admissions, which are not only stressful for patients, but costly for the care provider.
There are already documented cases of mainstream consumer electronics saving lives; for example, a smart watch which helped detect an underlying heart condition. Using wearables in a wider context would become more reliable with 5G.
Internet of Things (IoT) technology – networks of connected devices such as sensors – is also expected to be boosted by the widespread adoption of 5G. In a healthcare setting, this could mean an increased opportunity to collect relevant data that could be used to assess a patient's condition remotely.
A connected insulin pen, for example, could help patients to calculate correct dosages, as well as tracking data which could influence blood sugar levels, such as the time administered, or types of food consumed. Connected inhalers to support asthmatics, smart contact lenses which can detect glucose levels from tear ducts, and ingestible sensors which can be built into medication to monitor prescriptions are just some types of patient care technology that would make headway with 5G.
A digital transformation of the healthcare system could also impact the physical hospital of the future: it could mean using technology to support community-based care for vulnerable patients, or helping management to better understand the use of a building and its equipment. 5G could help locate and communicate with specialist staff at the touch of a button, allowing them to better respond to an emergency.
At present, slower network speeds and unreliable connections would make it difficult for doctors and nurses to access the real-time data required to make quick decisions. With a dependable 5G mobile network in place, healthcare professionals can use new technology and connected equipment to their advantage, which would ultimately benefit patients.
Through existing apps and consumer devices, the capabilities of a digital-first healthcare model are readily achievable, but its effectiveness will rely on access to powerful and reliable 5G networks. Safe, dependable technology will be essential to building trust with patients and by building a better-informed network of care providers – from GPs to A&E departments – there is an opportunity to improve patient care, while also creating a more efficient healthcare system.
Paul Coffey is the CEO of The Scotland 5G Centre
Comments
 0 comments
Want to join the conversation? Please or to comment on this article.