Passions: 'Where else would you find this cross generational span of the sisterhood?'
For fun dance-based exercise, Zumba classes are my go-to choice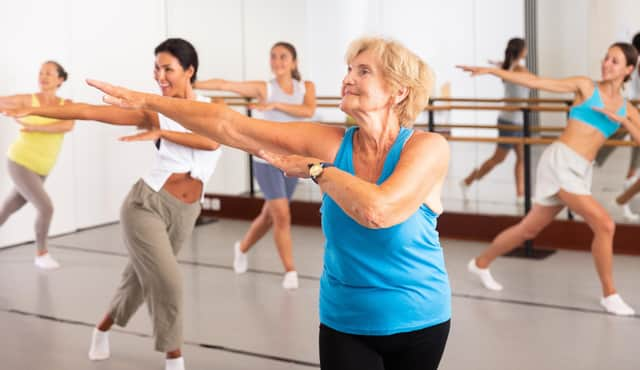 What's your exercise tribe? Are you a yogi, serene and lean, with grace, poise and flexibility? Maybe you're a wild swimmer, one of the growing band of outdoor human otters who are in their element, in the water. Or you could be a five-a-side aficionado. Me? I love Zumba.
For decades women have attended fun classes in local church or scout halls which set movement to music – in the Eighties it was simply called "keep fit", as in, "Your mum's away to her keep fit". There have been trends and fads and poster girls and boys, Jane Fonda in her leotard, Mr Motivator in his neon Lycra, Davina and her abs, Joe Wicks with his six pack. Today there's a library of fitness books to buy, and endless online classes to click on. But nothing beats a dusty village hall, an enthusiastic Zumba instructor and a gang of willing "girls". We use the term loosely as my class comprises all ages – from teenagers to ladies well into their 70s. Where else would you find this cross generational span of the sisterhood? We're all neighbours and now friends.
As a fitness sensation Zumba is relatively young as it was founded by Columbian dancer and choreographer Beto Pérez in 2001. Mixing cardio and Latin-inspired dance there's hip shaking, pelvis wriggling and recognised dance moves like the mambo which our instructor Fiona has incorporated into routines. Sometimes we think we look good enough to be on Strictly. But our halls don't have any mirrors, which we all agree is a good thing.
Since Zumba became a thing 15 million people have taken a class weekly in 180 countries. I can tell you why it's so popular. It's for everyone. Want to work up a sweat? Go for it. Happier to step the moves instead? No worries.
We cool down to tracks by Barry Manilow and Rod the god, use hand weights to Bruno Mars' Uptown Funk and squat accompanied by a tune by a Mr Pitbull. It's nothing if not eclectic.
Google zumba and you'll find a class near you.
I can highly recommend Ms Fiona Dyer who teaches twice a week in Edinburgh at Saughtonhall Recreational Centre and at the 150th Craigalmond Scout Group, 53 Saughton Crescent. For details email [email protected]