Passions: Walking in the footsteps of my father on the Loch Lomond and Cowal Way
The range of terrain on the 57-mile path is extraordinary​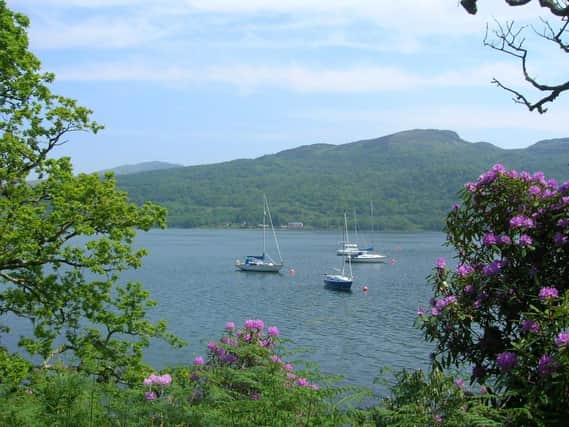 The Loch Lomond and Cowal Way is a 57 mile path that stretches from Portavadie at the tip of the Cowal peninsula to Inveruglas, on the bonnie banks.
Cowal is an overlooked part of Scotland, sandwiched between Kintyre and Ayrshire, but over the course of the route – one of Scotland's Great Trails and recommended to be completed over six days – the sheer range of terrain is extraordinary.
It starts with spectacular vistas of Arran, Bute and Loch Fyne, and then turns north to hug the coastline of the famous sailing waters of the Kyles of Bute. At low tide you squeeze between huge boulders on the shoreline – take off your rucksack to get through.
From here it goes inland, through the sheep farming community of Glendaruel, before heading into a gem of a forest park at Glenbranter, full of red squirrels and waterfalls, set out by the Edwardian celebrity, Sir Harry Lauder.
At Strachur the path uses forestry roads past hill lochs and over stepping-stone rivers before arriving at Lochgoilhead where real mountain country begins.
It climbs 580m into the Arrochar Alps affording views of Ben Lomond and the Firth of Clyde.
Arrival at Loch Lomond offers iconic views and a bracing dip for some, the ferry over to join the West Highland Way for others.
The trail passes directly outside my house so I see many backpackers heading past. I've met charity walkers going it alone, dogged retirees with support spouses driving the motorhome, and groups of foreign tourists wanting to get a full taste of Scotland in a week.
And I walk at least part of it every day.
But you could say I inherited the Way. My dad, James McLuckie, literally wrote the book on it, developing the path over many years.
He, with a team of volunteers, and later employees when funding was available, coordinated landowners, community councils, forestry and tourism contacts, raised money and accessed grants for walkways, bridges and gates.
The result is a cohesive journey with practical stops and the gift of the best views, flora and fauna, natural and manmade heritage in the area.
He is retired now but someone needs to take on the mantle.
As a start, I'm taking a week in October with other helpful locals to walk the whole length, noting updates for the reprint of the guide book, looking for wear and tear and replacing signs.
It's a tough job but someone's got to do it.
The Loch Lomond and Cowal Way guidebook is available from www.rucsacs.com
Kirsty McLuckie is Property Editor of The Scotsman