Passions: Aisle always smile when supermarket Christmas comes
It's months until Baby Jesus arrives but the Lindt Gold Reindeer is here right now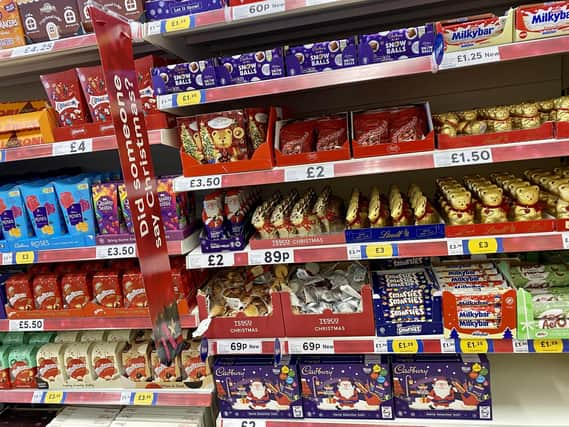 It's September, the sun is shining, so of course the supermarket Christmas aisle has arrived.
And in 2023, in my local store, it's just the Christmas aisle – the nonsense of recent years, which has seen Hallowe'en, Bonfire Night and Christmas team up, is over.
Just look at all the goodness. There's the Lindt Gold Reindeer and a less glitzy own brand doppelgänger. The hollow Santa which brings guilt as I bite off his beardy head. And of course, that modern classic, the Dairy Milk Snowman, which will never not look filthy.
And would Christmas be Christmas without a tub of Quality Street, Celebrations, Heroes or Roses? Well yes, yes it would, despite what the sweet manufacturers would have us believe. And while these tubs are wonderfully educational if you wish to teach the kids about shrinkflation, they're also handy for a lesson on going green.
I mean, have you seen the wax wrappers Nestle (and that's "Nessel", none of your poncey "Ness-lay" if you please) now drape Quality Street in? Yes, they're eco-friendly, but also as dull as Greta Thunberg's recycled dishwater, killing the classic bejewelled look.
Ah well, it's not all about stuffing your face with chocolates. There's also stuffing your face with cheese and crackers. And while you won't find cheese in the festive aisle – it's in the chiller cabinet – crackers there are aplenty. And it's Jacobs (Marley?) all the way – Cheeselets transform into the pun-tactic Treeselets, Twiglets come in a jolly drum but remain inedible and the huge, inviting Jacobs' Selection gathers the blandest of the bland – Krackawheat anyone? (What I really want is Cheese Ryvita, but no one remembers this Seventies delight, not even Ryvita, Reader, I tweeted them.)
Then there's stollen, the marzipan mouthful that instantly transports me to a German market somewhere in Edinburgh. And chocolate-coated shortbread that snaps me back to Scotland with a massive grin on my increasingly chinned face.
The twinkling, full-fat Christmas aisle is a magical spot compared to the boredom of the fruit & veg, or gluten-free sections. It's a place of pure pleasure, where indulgence is all and calories don't count. Well, not until January.
Martin Gray is part of The Scotsman's Future Content Team​
Comments
 0 comments
Want to join the conversation? Please or to comment on this article.