Partygate: Boris Johnson's Covid lockdown breaches just add to the many painful memories – Christine Jardine
Watching the former Prime Minister in front of the Commons' Privileges Committee last week must have felt like the cruellest of ironies for families up and down the country.
Three years after the beginning of lockdown, almost to the hour, the man whose government had introduced restrictions on people's lives was explaining yet again why he didn't think the Downing Street lockdown parties had broken his own laws. It will be for the committee to decide whether Boris Johnson recklessly misled Parliament when he repeatedly claimed at the despatch box that no rules had been broken in Downing Street.
But it was being reminded of a period, which can, at times now, seem almost like a different life, that must have proven so painful for so many. It was on March 23, 2020, that the then Prime Minister asked us all to stay at home to protect lives and the NHS. Three days later on March 26, three years ago yesterday, the first lockdown law, which gave legal effect to that appeal, was passed.
It was not until February 2022 that those restrictions were finally and fully removed. Almost a quarter of a million deaths have been recorded, 16,900 of them in Scotland. There can be few of us who survived that period without losing someone we loved, and most often without the opportunity to say farewell. Nothing can ever overcome that. And there are those for whom long Covid is a constant daily reminder.
For many people, it may feel that daily life has resumed almost as it was, although I cannot help but wonder if we are kidding ourselves about that one. I may be able to go into the butcher now when there are more than two other people in the shop, or converse without a screen between us. Or actually meet constituents in my office or at surgeries, rather than over the phone or in a Zoom meeting from my dining room table. And I no longer walk along roads in Edinburgh West devoid of most traffic and enjoy near silence and clean air.
But I wonder whether the real impact is much more far-reaching and hidden from immediate view. The two years that my daughter spent in lockdown came when she was the age at which her father and I met and got married. Our first conversation was over lukewarm macaroni cheese in the staff canteen the week I started a new job in a new city.
I cannot imagine what it must be like to spend all your time detached from your peers, working at home with no chance to forge the social bonds that can last a lifetime. Or worse, unable to work at all and worrying whether your business or employment will be there when lockdown is lifted.
Similarly, I worry for our children who missed out on those developmental interactions of infancy which shape their personalities. Or school life, exams and weddings of close friends and family.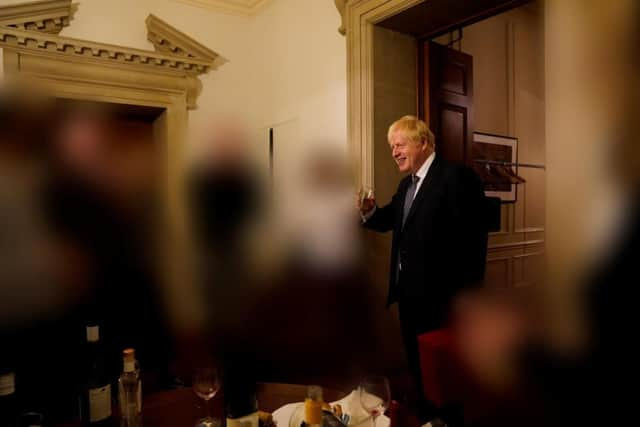 We know now that there were also happy tales from lockdown of babies born and relationships established. But psychologists are still, I believe, far from establishing the true impact of that time as much of the evidence they will need has yet to emerge.
For me, one of the most surreal aspects was living through a story that scientists had predicted to me in interviews years before – now locked somewhere in the archives of BBC Radio Scotland – warning that we were not prepared for the pandemic which might hit us any time, and probably from the east.
In 2009, we had what feels now like a dress rehearsal with the swine flu outbreak, but still we were neither emotionally nor practically prepared for those months in often solitary isolation. For so many people, lockdown must have been interminable and lonely, with the memory painful.
Watching our then Prime Minister, the man in whom we had all placed so much faith, rehearsing his defence for the umpteenth time last week stretched even the most patient of temperaments. He no longer disputes that there were 'events' with alcohol in Downing Street, but insists that he was advised by his political staff that they were acceptable, and therefore did not mislead parliament.
Others will judge whether that was in fact the case. One of the arguments he puts forward is that the staff were working under immense pressure and needed some morale boosting. Looking back over those two years, I can think of so many people for whom that was true, from those I mentioned earlier to the medical staff, care workers and essential workers who kept our shops open and public services operating.
And, yes, civil servants and political staff who kept the country running and got people home who would otherwise have been stranded in another part of the world. I remember working with my own staff late into the night to speak to authorities and stranded constituents in Peru, New Zealand and elsewhere to pass on information and help them get transport home.
Volunteers delivered hot meals and we all did what we could, however we could, whenever we could. And we did what we could to keep spirits up, within the rules, even though there were times when we longed to do it differently. With friends.
I suspect there are those who think that once the Privileges Committee has ruled on the former Prime Minister's behaviour that chapter of our history will be closed. The pandemic will be behind us.
As I look around me at the damaged lives, failing businesses and our struggling economy, I doubt that will be the case. There will always be a part of me that hurts for everything and everyone that we lost to Covid.
Comments
 0 comments
Want to join the conversation? Please or to comment on this article.