Before the Covid pandemic, I would cycle the three miles to The Scotsman's Glasgow office most days.
But after I switched to working from home, I didn't ride for weeks on end and went for shorter walks for exercise instead.
However, like many average cyclists, I've been encouraged by moves to make cycling safer and more pleasant with the creation of additional segregated lanes on busy roads.
It's a simple measure but provides significant extra reassurance to all but the boldest riders compared to relying on a white line down the side of the road.
These "Spaces for People" improvements have sprung up across Scotland over the last year, particularly in Edinburgh and Glasgow, and in many cases have proved roads are quite wide enough to accommodate cycle lanes while still leaving plenty of space for other vehicles.
Previous transport minister Humza Yousaf – now the Justice Secretary – attached such importance to segregated lanes four years ago that he approved not just one scheme to be Scotland's next major protected cycleway but all five of those shortlisted.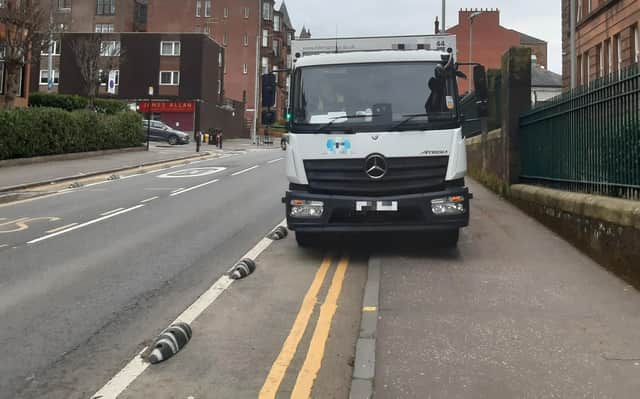 The added advantage is the segregation – created in Glasgow's case with black and white striped "armadillo" studs – should provide an additional visible and physical deterrent to vehicles parking over them.
After all, it appears that many motorists are blind to cycle lanes when they are just paint.
In some parts of Glasgow, drivers are so lazy they block cycle lanes by parking cars on the street outside their houses even when they have an empty driveway. It's breathtaking arrogance.
So you would hope those armadillos might make motorists think twice. Alas, not in all cases.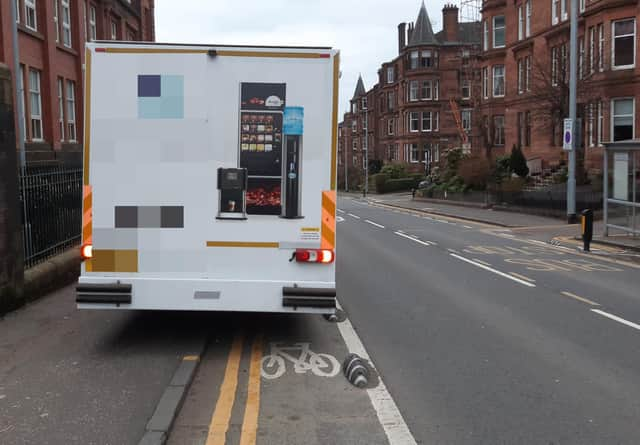 I was astounded to see a delivery lorry blocking one of these lanes outside a secondary school in Glasgow this week – while making a delivery there shortly before the start of classes.
The vehicle was also parked partially on the pavement – an offence if it had been spotted being driven onto it – on a double yellow line with a yellow stripe on the kerb which further restricts loading. What more do we need to stop this happening – a brick wall?
Ironically, the bottled water company involved was among those promoting Cycle to Work Day last August, and had previously offered free water to those cycling for charity.
Eden Springs told me: "We take our safety policies extremely seriously, and this extends to ensuring we deliver our products in a safe and respectful manner.
"We will continue to train our associates to ensure our policies are followed, including reinforcing the importance of treating all road users and pedestrians in a respectful and safety-conscious manner."
It states: "A parking attendant can be sent to check and will issue a parking ticket if the vehicle is incorrectly parked.
"The vehicle may be impounded if it is causing an obstruction to other vehicles and pedestrians."
That would be a result if it happens – and the more frequently it does, drivers might soon get the message that segregated cycle lanes must be sacrosanct at all costs.
A message from the Editor:
Thank you for reading this article. We're more reliant on your support than ever as the shift in consumer habits brought about by coronavirus impacts our advertisers.
If you haven't already, please consider supporting our trusted, fact-checked journalism by taking out a digital subscription.