​Oversight of major projects shouldn't be left to amateurs - John McLellan
​Of all the damning conclusions in Lord Hardie's long-awaited and exhaustive report into the Edinburgh tram fiasco, one stood out; the recommendation of a new crime of misleading a public authority.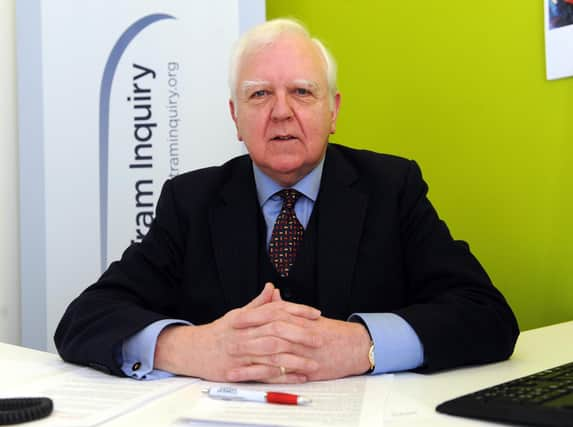 His investigation shows how councillors were misled by official reports which contained "false statements" and although he did not specifically say there were deliberate attempts to deceive, it's not hard to read between the lines.
As well as calling for officials guilty of deception to be ordered to pay damages, he recommended that "Scottish Ministers should consider whether there is a need for a statutory criminal offence involving strict liability once it is established that the information and/or report was misleading by reason of the inclusion of false statements or the omission of relevant fact."
The clear inference is that councillors were so badly misinformed about what was going on that if such actions were not criminal offences then, they should be now. He's not wrong.
Councillors are regularly asked to approve officer recommendations involving millions of tax-payer pounds, and their decisions hang on the reliability of the information they receive. If the information is incomplete or inaccurate, ruinous decisions are the result.
But that's not the whole picture. Councillors need skills and knowledge if they are to spot gaps or problems with the information provided and the truth is few are, including me.
Rather than experienced professionals, too many are political zealots whose naïve enthusiasm can blind them from reality. Councillors were so determined to build a tram system it wouldn't have mattered if they had a more complete picture of how badly the whole thing was going.
Only when there was complete paralysis and the cash was running out were options like halting the line at Haymarket considered, which would have made the city an even bigger laughingstock.
There have been claims that completing the postponed Newhaven stretch for an estimated additional £207m demonstrates how lessons have already been learnt, but having been involved in that approval process it only emphasised to me how control still lies with the officers, and that councillors on a mission will accept anything if it confirms their aims.
All the Newhaven completion proves is if you make the budget big enough you can spend what you like, no matter the wider impact on resources, as if using up the whole £40m contingency allowance was some sort of triumph.
Emboldened by Newhaven, pig-headedness is now there for all to see with the insane proposal to dig up Queensferry Street and run a tram line to Granton across the Georgian Dean Bridge.
In Granton itself there is more evidence of unlearnt lessons at the Gasholder conversion, another pet project, with auditors warning about inadequate scrutiny as the councillor oversight group did not meet for a year, and budget analysis, risks and progress reports not routinely tabled.
Lord Hardie's criticism goes right to the top of the council's current management, yet the immediate response to such an excoriating condemnation is to do virtually nothing except put out a press release. Nothing to see here, all sorted years ago, move along now please.
The biggest lesson from Lord Hardie (recommendations 7, 9 and 10) is that oversight of major infrastructure projects costing tax-payers billions should not be left to amateurs with an inflated idea of their own ability. To do otherwise would be criminal.
Comments
 0 comments
Want to join the conversation? Please or to comment on this article.