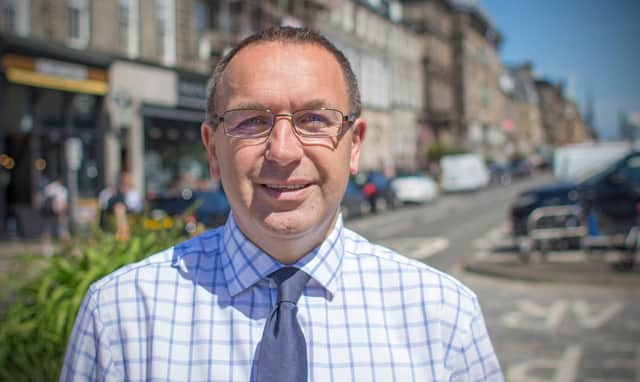 Roddy Smith, CEO Essential Edinburgh
An indicative opening date for retail and hospitality of April 26, combined with another year of the business rates holiday, an extension to furlough and the continuation of the 5% VAT rate were all positive developments. However, it is only the start of a re-opening process that will take time and a collective effort by many business and governmental bodies will be needed in the months ahead.
Our hospitality businesses need to utilise as much outdoor space in the city as they possibly can. Yes, this may well mean some inconvenience for cyclists and car drivers but it is imperative for hospitality to reopen and allow our residents to enjoy being allowed to socialise again. They will not be allowed to operate extensively indoors, and need not only additional space to make trade profitable, but they also need to trade for hours as close to normal as possible. Trading till 6pm with no alcohol will mean units will remain closed.
Again, positive noises are being heard but action will be what is important. It was very encouraging to see the Government extend the special measures to support local authorities in approving applications for the erection of temporary buildings by the hospitality sector. City centre streets such as George, Castle, Rose and West Register would be perfect examples for outdoor hospitality spaces, especially with some covering to support trade in all weathers.
These spaces could also be utilised for stages and venues during the summer to support the city's festivals and day to day life. The city centre needs activity in the next few months to allow our residents and visitors to return and our business to trade effectively. Although this will require increased pedestrian streets and less vehicular access it is consistent with the council's long term vision for George Street and the wider city centre. Why can't we utilise these streets and active travel policies now to support the return of residents and visitors this summer if Covid-19 conditions allow.
There is no doubt that with a summer with very limited visitor numbers expected, we need to provide reasons for our residents to come into the city centre. If Covid-19 conditions allowed, a varied programme of outdoor activities which include festival events, music, film etc will be the perfect accompaniment to go along with our existing attractions. With our retailers open, and our hospitality businesses operating on the street, we could create a great buzz in the city and allow the residents to return safely to enjoy everything that is on offer. There is also the possibility of using any empty retail units for smaller pop up events which allow for limited numbers in large floor area spaces.
Along with the opening of the St James Quarter and the Johnnie Walker Whisky Experience to look forward to, we have an opportunity to really promote the city as a destination for domestic tourists as well as allow Edinburgh residents a chance to return to reengage with the city centre after a year away in many cases.
These exceptional times call for imaginative solutions and we need to act proactively. It is not a time to be curtailed by politics or overly cumbersome licensing restrictions. Practical support measures in this instance are equally as important as the financial help that has been offered. Hospitality businesses want to reopen but they can only do so if it is in a safe and controlled manner, for that open air space is imperative.