Our new First Minister must redouble efforts to support people living with sight loss - Craig Spalding
As Scotland's oldest sight loss charity, Sight Scotland and its sister charity Sight Scotland Veterans, are calling on the new Frist Minister, Humza Yousaf MSP, to work alongside the vision impaired community to improve inclusivity and accessibility.
An estimated 180,000 people are currently living in Scotland who are blind or partially sighted, with this number expected to double by 2031 to almost 400,000. People living with vision impairment face a multitude of challenges on a daily basis, including loneliness, isolation, and social exclusion. If we add in spiralling waiting times, the cost-of-living crisis, and growing problems with accessibility in our towns and cities, it is clear to see that more needs to be done to improve the lives of people living with sight loss across the country.
As a former Health Secretary, our new First Minister knows the challenges that are facing healthcare and public health in Scotland. You just have to look at the latest ophthalmology waiting times statistics released by Public Health Scotland to realise that the Scottish Government must do better. On average 36 per cent of new outpatients had to wait over 16 weeks for eye appointments, a rise of almost ten per cent in just three months. This number then grows to over 50 per cent in some health boards such as Fife and Lanarkshire. People with deteriorating eye conditions just don't have the time to wait, if ophthalmology waiting times are not improved, many face the very real prospect of permanent damage.
The cost of living crisis is also hitting the vision impaired community hard. The majority of people living with sight loss already face additional expenses, such as transportation costs, technology assistance costs and support in the home. They are also forced to spend a lot more time in their home due to vision loss, which makes fuel poverty a very real threat due to soaring energy bills. In a survey we conducted with Veterans with sight loss, 89 per cent said they were spending more on shopping than they used to. This is forcing many to cut back on essentials such as food, heating and electricity, which is having a terrible impact on both their physical and mental health. This simply cannot be allowed to happen.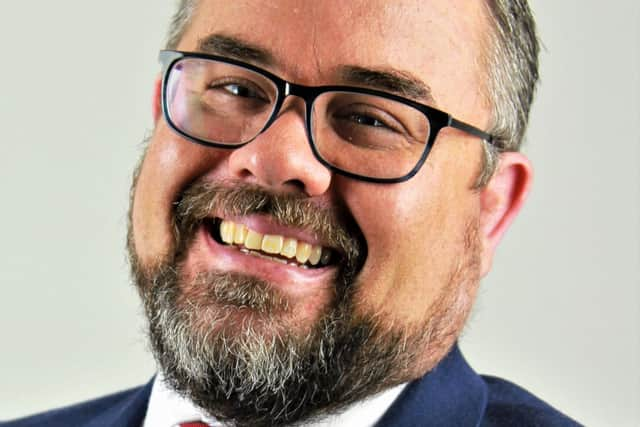 The Scottish Government must address the growing problems of accessibility in Scotland. Visually impaired people rely on either walking or using public transport, so it's very important there needs are taken into consideration when planning and designing new layouts in our towns and cities. More streets in Scotland are being transformed to give priority to active travel, but unfortunately there are many instances where these new layouts are dangerous for visually impaired people. Something that is aesthetically pleasing to look at is not always practical for someone who can't see, and issues centring around cycle paths with no kerbs, floating bus stops and staggered zebra crossings, are causing real safety concerns. This is not to say active travel and accessibility can't work in harmony, but it's vital we listen to the voices of blind and partially sighted people to ensure we can get it right from the get go. Meaningful engagement with communities is key to this so that their lived experience can inform plans that meet the needs of everyone.
We are looking forward to working alongside the new Scottish Government to help address many of these issues and to develop further the new See Hear strategy and the National Low Vision service. We welcomed the launch of the new eyes.scot website, Scotland's national website for eye care services and eye health information. The reestablishment of the Graduate Diploma in Low Vision Rehabilitation course at Strathclyde University is a step in the right direction to ensuring more people with visual impairment have access to specialist support to lead independent day to day lives. We hope our Fair Rail Campaign, and our Braille labelling campaign for food products, will gain further traction and Scottish Government backing in the months ahead.
A new First Minister and Cabinet present a real opportunity to address these challenges. We welcome the chance to work even closer together to ensure the needs of people living with sight loss are at the top of the agenda.
Craig Spalding, Chief Executive of Sight Scotland and Sight Scotland Veterans  
Comments
 0 comments
Want to join the conversation? Please or to comment on this article.