Opinion: Janet Christie - It's about bloody time period products were free
Youngest isn't keen on the TV news but she likes to spend "family time" with me to keep my spirits up, so sometimes joins me while I'm watching.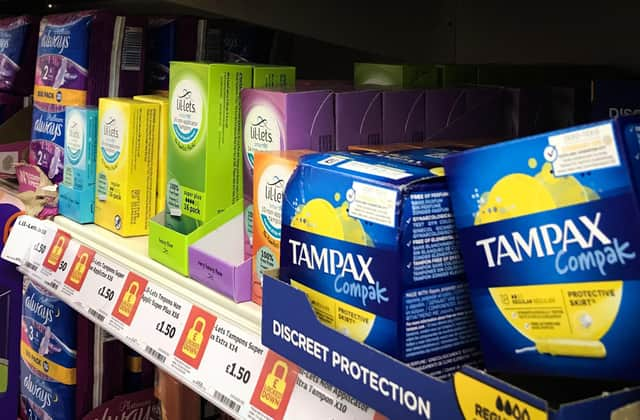 File photo dated 21/02/20 of sanitary products on sale in a supermarket in Glasgow. Scotland could become the first country to make period products freely available if MSPs vote for new legislation later on Tuesday. PA Photo. Issue date: Tuesday November 24, 2020. Holyrood will vote on the Period Products (Free Provision) (Scotland) Bill, which intends to introduce a legal right of free access to items such as tampons and sanitary pads in public buildings. See PA story POLITICS Sanitary. Photo credit should read: Jane Barlow/PA Wire
"I'm going to be voting next time, better look at this stuff," she says, settling next to me, tapping away at her mobile.
Being a Little Miss Sudoku, her ears only prick up at statistics - "Is that death total today, or this month or week?" she says.
Scotland is the first country to make period products freely available.
"Oh." Back to tapping. But then comes an item that drags her eyes from her screen.
"Scotland becomes the first nation in the world to make period products free. Monica Lennon's Period Products (Free Provision) Scotland Bill is passed unanimously in the Scottish Parliament. Sanitary products will be free to everyone who needs them."
"Good!" she says. "It's ridiculous, the price of them. About £8 a month, way too much for girls. About time!"
She's right. Half of humans menstruate at some point in their lives (Ok, if you're going to quibble, the sex ratio for the entire world population is currently 101 males to 100 females, but it's very close) and previous generations preferred to ignore this until now, to the extent that when my generation hit puberty the entire conversation with your mother on the subject ran like this: "Have any of your friends started their periods?"
'Good' as in 'so you'll know all about it and we don't have to have the conversation', not 'welcome to the wonderful world of womanhood, it's an amazing thing, how many men do you know who can bleed for a week and not die, ha ha, right this is a great excuse to get new underwear and help yourself to the pads and tampons stashed next to the razors in the bathroom. Oh and that blood's sterile by the way so you won't be spoiling crops or killing bees.'
For us there were confusing TV ads involving hang-gliding cheerleaders or men in lab coats pouring blue liquid in gleaming white (ie sterile, unlike us) laboratories and we absorbed the message that periods, bleeding and blood were something no-one talked about - at best an excuse to dodge PE, at worst something secret, shameful and taboo. How weird was that?
"That's what I like about our house," says Youngest. "The tampons and pads have always been out there in the bathroom, there's a bin, nobody bothers, it's not a thing. It's just normal."
A message from the Editor:
Thank you for reading this article. We're more reliant on your support than ever as the shift in consumer habits brought about by coronavirus impacts our advertisers.
If you haven't already, please consider supporting our trusted, fact-checked journalism by taking out a digital subscription.