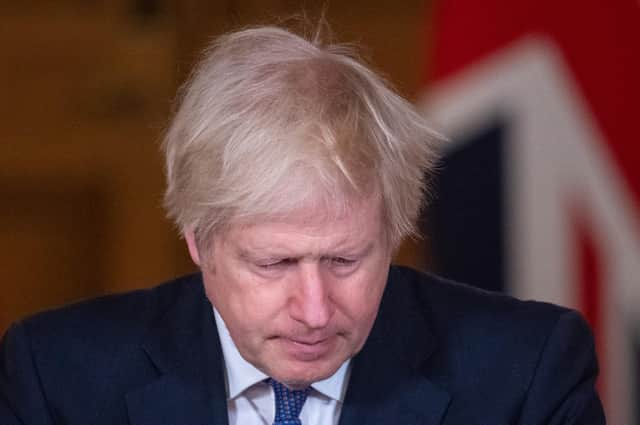 Never mind the previous nineteen polls.
The Thunderer has produced its own four nation survey of public opinion and a front-page story, headlined 'Our Disunited Kingdom' - so the imminent and inevitable break up of Britain is now officially a thing.
It's deeply ironic that the Brexit-supporting Times wants Britain to wake up to a constitutional crisis it helped engineer. Nonetheless, a weel-kent story in the Celtic nations is finally being broken to Middle England. So, this is significant.
According to the paper, more than half of Northern Ireland's voters want a border poll in the next five years whilst 52 per cent of Scots voters back independence now. Most British voters believe Scotland will deliver a Yes vote next time - the proportion in Northern Ireland is the highest in the UK.
So, there clearly is linkage between the dismantling processes of Scotland and Northern Ireland in the minds of voters - even if no political party across the Sheuch is currently campaigning for reunification.
I received a draft manuscript recently from an unlikely source - a former unionist and Conservative Party member, who worked in Scotland for eight years before returning to Belfast. His book 'Irish Unity: Time to Prepare' details how the unfolding campaign for Scottish independence has helped build momentum for Irish unity and describes the step changes in his own outlook;
'I came to realise… you don't need to be a particular religion, speak a certain language or play GAA games to be Irish. I [finally] studied Irish history a bit (which I didn't get to do at school) and realised partition has been a disaster for both parts of the island. I've always loved the Ulster and Ireland rugby teams and used that to help develop my own sense of Irishness, which doesn't have to be the same as anyone else's. I worked in Scotland and listened to the SNP talking about soft nationalism and fiscal autonomy and realised that having control over fiscal levers (within an EU context) is very appealing. I want to be part of an outward-looking liberal country with a positive, strong identity internationally and I'm tired of living in a siege mentality.'
This profound realisation - the product of years, even decades of thought and slow change - isn't easily reversed by threats and cynical game-playing. Yet that is all London has to offer.
Boris Johnson's grandly named union policy implementation committee has apparently devised a five-step strategy. Step One is to offer no constitutional concessions in advance of the Scottish elections whilst Step Two is to simultaneously launch a campaign outlining the benefits of the union. Good luck with that. Step Three is to deny Scotland a referendum in the hope Yessers will fall out over tactics. Disagreement is indeed likely - but far less off-putting to the general public than Boris Johnson's 'wee sleekit, cowrin' refusal to even consider a second vote. Step Four is to consider further devolution later, as part of wider reforms throughout the UK - borrowing an underwhelming strategy from Labour which has already failed to ignite the heather. Step Five is to control the timing and terms of the vote if there is a referendum (the colonial approach right to the bitter end).
As one commentator observed yesterday - the five stages of grief.
Except there is no real emotion, no attempt at connection with sincerely felt aspirations for Scotland or any of the Celtic nations. Just a rehash of Project Fear - but a project now completely shorn of the secrecy that once concealed its shabby intent.
Pelters may stick to an SNP leader who's been accused of undue timidity in this column many times and still faces investigation by a Holyrood committee.
But that's for headlines and phone-ins.
When it comes to elections, voters must take the more general view.
On the whole, which other leader looks better? Which potential new government looks more able? Which rival party has a more coherent programme to improve Scotland? Which overall narrative is more credible - Westminster or Holyrood? Can any silvery-tongued Johnson acolyte persuade Scots to forget the life lessons and political conclusions we've arrived at - for ourselves - during the Covid and Brexit crises?
After the May elections there has be one outcome - one team - one government and one constitutional future. So whilst the Alex Salmond row and glacially slow development of a Plan B strategy may be talking points, in the end, folk must be practical. Is there a better, more coherent option for Scotland than independence? Is there a better party to lead than the SNP? No voters are quietly grappling with these big questions, even if unionist party leaders will not.
For some, independence is now a logical conclusion - a regretful calculation not a cause for celebration. That's fine.
For some female voters, independence is now the safest not the riskiest option - the best way to distance families from the zealots and dogmatists running Britain. Opinion polls suggest the Indy gender gap has been reversed and women now back independence in greater numbers than men.
Ironically, that may be because independence helps Scotland save the best of British - the post war settlement and welfare state.
Brexit, the Covid response, austerity, benefits cruelty, inequality and cronyism.
Boris Johnson should start praying for mass amnesia north of the border.
Nothing else will keep the union intact.