On Gary Lineker, the BBC is facing up to a problem of its own making - Brian Monteith
It's Budget week, but with the news channels and both traditional and social media focussing on the BBC's disciplining of Gary Linker, who knew?
The Budget is a big political event for the Government and official opposition as it gives both an opportunity to further their electoral appeal as we approach a General Election no later than the end of next year. Yet as we narrowly avoid economic recession and still reel from the cost-of-living-crisis it is not Wednesday's budget that will impact upon all of us that broadcast news is focussing on – it is instead the BBC reprimanding its top-earning presenter.
It is a peculiarly British affair, where the establishment is at war with itself – the BBC corporate management playing against the football luvvies – with both seeking to take the moral high ground. It is a battle to the reputational deaths of those seeking to protect the hallowed impartiality of Britain's public service broadcaster against those claiming they can say what they want, when they want without any filter or accountability.
These are high stakes with big egos involved leading to relegation for the loser.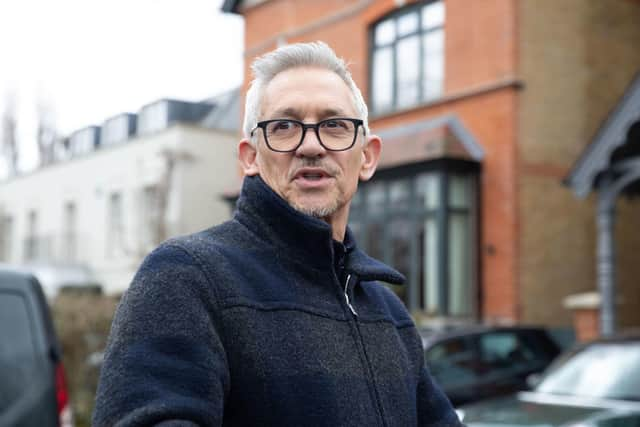 From my days in the sixties of watching the teleprinter churn out Saturday's classified football results, through the various cup finals and internationals that moved from black and white to colour – and on to the modern televisual game with its multiple camera angles, computer graphics and accompanying downpour of statistics, I have never ever chosen to watch a football show because of who was presenting it. Nor have I known anyone say to me, let's watch BBC, it's got Gary Lineker presenting…
I have, however, complained repeatedly about a seeming lack of impartiality in how the BBC frames contemporary affairs.
The issue at stake is not the importance of Lineker to the presentation of the game. Nor is it about Lineker's free speech, it's far more complex than that.
For the BBC it is about a far bigger issue of seeking to maintain – or for me re-establish – a reputation for political impartiality. Ironically the BBC has created its own monster celebrity in elevating Lineker to a level of importance I suspect most followers of football care little about.
The one important fact that practically all of us do not know is what Gary Lineker's contract with the BBC allows him to say. For it is Lineker's contract that will govern how he should conduct himself and determine the disciplinary limits the BBC Director General will have to work to – not what we mere spectators might consider as Lineker's particular rights to freedom of speech or if what he said was justified or not.
Anything else is all opinions and conjecture.
Would there have been such a storm of morale outrage against BBC management if Lineker had praised the Conservative Government for seeking to end the human trafficking of mostly male economic migrants? Lineker's comparison about the Government using language similar to thirties Nazi Germany was incendiary. It is one of the biggest political issues of the day – and is likely to only get bigger if Rishi Sunak cannot reduce the numbers of people that come to the UK in this way.
The BBC bosses, who have had previous cause to warn their football anchorman and host of Match of the Day, finally decided he had to be subbed until his adherence to club discipline could be agreed. The celebrity culture of entitlement within the BBC is, however, deeply ingrained. Instead of taking the dispute behind the scenes the BBC management's actions only elevated it further as fellow broadcasters chose to refuse to provide any cover for Lineker's enforced absence.
Lineker is entitled to express his own political views, but in working for the BBC there are different parameters that apply compared to him working for ITV, Sky or other broadcasters. The difference is obvious; the BBC is funded by a television tax, the avoidance of which will lead to a criminal conviction. The British public pays this tax irrespective of their own political views, what they protest about or who they vote for.
The bottom line is the public funds Gary Lineker's multi-million lifestyle whether they like it or not – just as they fund the wages of other BBC personalities – all of whom are expected to protect the impartiality of the BBC.
Some defend Lineker or attack the BBC management by raising instances of other television personalities who have been known to offer their own political thoughts without being similarly reprimanded. This is a deflection, for examples like Alan Sugar or Jeremy Clarkson are false comparisons. The former is a contracted freelancer known for having outspoken views (and supporting different political party's leaders) – and the latter has actually been reprimanded for his behaviour in the past and no longer works for the BBC as a result. Neither threaten the BBC's reputation for impartiality.
Likewise, those trying to say the political broadcaster Andrew Neil was allowed to put over right-wing views clearly have very selective memories. Neil has an impressive ability to eviscerate the arguments of any politicians who come before him and his editorial piece-to-camera criticising Boris Johnson for refusing to be interviewed by him in advance of the 2019 General Election was hardly an endorsement of the Conservative Party.
Lineker could undoubtedly earn more with other broadcasters, so why not go and do so – and agree with new employers in advance that he can say what he pleases? Few will then care – he will just become another advocate of 'woke' views but of no consequence to public service broadcasting. The BBC can then return to having football presenters known for their professionalism without off-screen political colour. Maybe then we can learn about Jeremy Hunt's budget…
Brian Monteith is a former member of the Scottish and European Parliaments and Editor of ThinkScotland.org
Comments
 0 comments
Want to join the conversation? Please or to comment on this article.