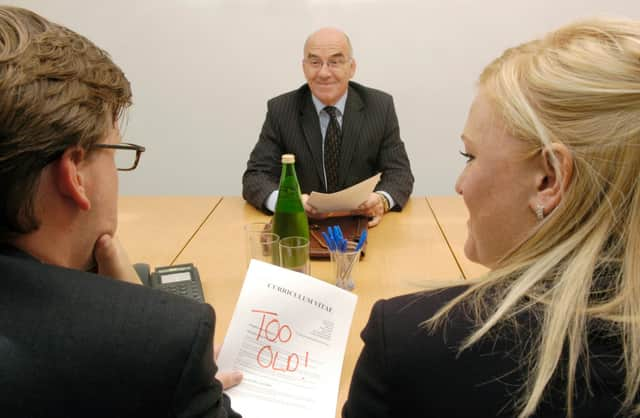 Those losing a job in later working life already faced an uphill struggle to find another – pressure that has been amplified by the current downturn​​​​​​​
There's no doubt that over-75s have borne the brunt in health terms. Thousands of families have lost loved ones, while many more are feeling desperately isolated.
On the other hand, the disruption to education and the economy is likely to be felt for years to come. Commentators have voiced concerns for a "lost generation" of young people who have missed out on school exams or starting their careers.
But one group in the middle is often forgotten about. Older workers tend to get only the briefest of mentions, if any at all, in discussions about Covid-19's impact on workplaces. Yet those aged between 50 and 65 are among the most likely to have lost their job or struggled to find one in the last year.
Brian Sloan, chief executive, Age Scotland.
That's not to mention the growing numbers who continue working past traditional retirement age, whether out of choice or necessity.
The Office for National Statistics revealed that the unemployment rate among 50-64-year-olds soared nationwide last year, with more than 340,000 finding themselves out of work between June and September.
Research by the Resolution Foundation found that both older and younger workers had been worst hit. Three in ten workers aged 60-64 had seen their pay reduced in 2020, second only to the 18-24 age group.
More than one in five "Baby Boomers" had lost their job, been furloughed, or seen their pay and hours reduced. Older people were also the least happy about being on furlough, perhaps due to worries about money, retirement or health.
While many of us have embraced the joys of the home office – or kitchen table – this is less true among older age groups. Over-55s were less likely to be able to work from home, and few expected they would be able to in the future.
This could be because some are less confident relying on technology than their "digital native" juniors. But for others it would simply not be an option, whether they work in a "hands-on" role or a senior office job that requires social interaction.
Those losing a job in later working life already faced an uphill struggle to find another – pressure that has been hugely amplified by the current downturn.
Tens of thousands are now facing some incredibly challenging decisions such as whether to dip into their retirement savings early and live on a drastically reduced pension income in later life as a result, and how to manage years of penny pinching before they can collect their pensions. Being forced to stop work not only affects financial health but can seriously impact confidence and mental health, while those who do continue working face additional stress about their health and caring responsibilities.
Our 0800 12 44 222 helpline has also advised callers who feel under pressure to get back to work as soon as they can, but are worried about the impact this might have on a vulnerable partner or relative.
As the vaccine roll-out continues to progress, many of us are looking ahead to steps to get the economy moving again. But there's a very real risk that older workers will be left behind.
With years of experience, transferable skills, and a willingness to mentor younger team members, they still have a huge contribution to make.
Workplaces are among the areas of society particularly at risk of being affected by pervasive ageist attitudes, and we cannot afford to focus on a conflict between generations. Instead, intergenerational solidarity is key - as well as helping younger workers, we need to ensure there is comprehensive support for their older colleagues.
Brian Sloan, Chief Executive, Age Scotland