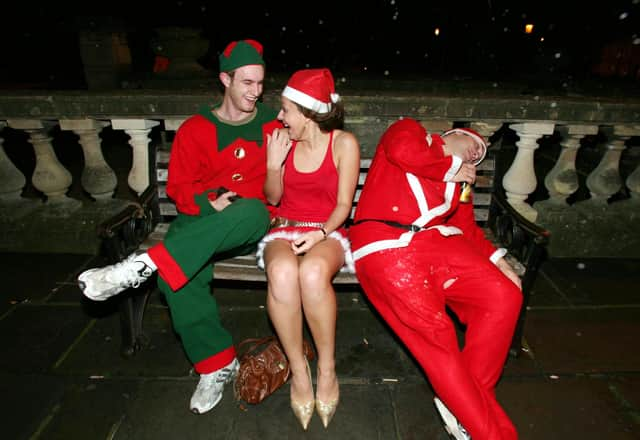 On the plus side, that means you don't have to sit next to Bob from Finance. On the minus side, it means you still have to listen to Bob from Finance and at the same time see inside his strange flat in Fountainbridge. Sorry Bob, didn't notice you'd joined us there.
Now first thing first. I'd like to… sorry, my screen froze for a moment. I'd like to… no, it did it again. Hang on, I'm going to move to another room. Just talk amongst yourselves.
...So as I was saying, I'd like to thank Alison from HR who organised this Zoom party back in March. Alison always does an amazing job arranging our Christmas get together and spends so much time on it, as only someone in HR can. Just a little joke Alison.
So the plan tonight is to go around the screen sharing funny work stories from the year. Then Fun Tony from Logistics has organised a Christmas Quiz. Unfortunately, Fun Tony is at home in Tier 7 so he's not even allowed on a Zoom call. Instead, he's going to share the questions via Dropbox. Actually, does anyone have our Dropbox login and password? No? Don't worry about it, we can sort that later.
Right, let's get started but just before we do that, Bob would you mind switching on your camera? Yes, everyone else has, so no excuses.
Pyjamas, really Bob? Fun Tony said everyone would be wearing pyjamas tonight for a laugh to celebrate the year we all worked from home? I'll speak to him about that later Bob.
So let's go round the screen and share some funny work moments from this bonkers year. Claire, you first. Can you unmute Claire? No, remember we went over this last week. You click on the big button that… actually let's do this later because it is coming up to 8pm and we have a little surprise for you all.
Alison arranged for everyone to get a home delivery Christmas dinner so we can still share the traditional office night out experience and it should be arriving in the next 60 seconds. What's that Bob, yours arrived this time yesterday? Sorry can't hear you Claire, you still need to unmute. No Quentin, I didn't realise you'd gone vegan and yes, it is too late to change your order.
Actually Bob, I didn't know bread sauce is a nightmare for coeliacs but that is now noted along with your preference for pescatarian if we ever go through this living hell again.
I'm beginning to sympathise with what Priti Patel has to face dealing with staff. That is a joke by the way Alison and in no way endorses any sort of bullying culture at this company. Can't hear you Claire, you still need to unmute.
So this is the point of the evening where we normally hand out the Christmas bonuses… but not this year. It has been a terrible year for Acme Giant Turkeys. Who could have predicted our market would disappear. Turns out closing Acme Tiny Turkeys was a bad business decision. So no bonuses, in fact, based on tonight you're all furloughed. Claire, you still need to unmute."
A message from the Editor:
Thank you for reading this article. We're more reliant on your support than ever as the shift in consumer habits brought about by coronavirus impacts our advertisers.
If you haven't already, please consider supporting our trusted, fact-checked journalism by taking out a digital subscription.