Scotland risks paying the price in lost jobs and opportunities for the SNP's unscientific and economically backward opposition to nuclear energy. Given Humza Yousaf's time as SNP leader so far has been focussed on dealing with problems left by his predecessor, he'd be well advised to add to that never-ending list by reversing his party's ongoing opposition to this safe and secure source of reliable baseload electricity.
Nuclear energy is vital to the UK and Scotland achieving our net-zero targets. It complements renewable energy, such as wind and solar power, and there is also the potential for nuclear to provide us with greater hydrogen capability.
The sector, however, is at a crossroads, with a majority of the UK's existing nuclear power stations set for retirement over the next few years. Scotland now only has one – the Torness plant in East Lothian, due to close in 2028 – after Hunterston B in North Ayrshire closed last year.
After a decade of inaction from the UK Government, there have been some piecemeal announcements supporting nuclear energy. As ever, the challenge will be to ensure the rhetoric and policy positioning are matched with the money and political will to deliver a real step change in the amount of domestic energy supply we can generate.
The Nuclear Energy (Financing) Act paved the way for a different funding model for new nuclear plants, a key step to ensuring that projects can meet their objectives in a timely and affordable manner. However, none of the eight sites earmarked for new plants are in Scotland, after Nicola Sturgeon's administration expressed its outright opposition, with the then Energy Secretary, Michael Matheson, saying that the SNP/Green government had "no intention" of taking any new developments forward.
Scottish nuclear workers and the manufacturing industry across the supply chain are in danger of once again being left behind. EDF sites at Hunterston and Torness have skilled workforces who now face being uprooted as their jobs move to parts of the UK where new nuclear opportunities are being seized.
Scotland should be at the heart of plans to deliver the next generation of low-carbon jobs. Instead, Scottish workers are facing redundancy, with little support to transition to the high-skilled and high-demand jobs of the future. Communities like North Ayrshire and East Lothian will neither forgive nor forget if the SNP and Greens' politicking over nuclear leaves people to make the impossible choice between retraining at their own cost, taking a less well-paid job, or moving away.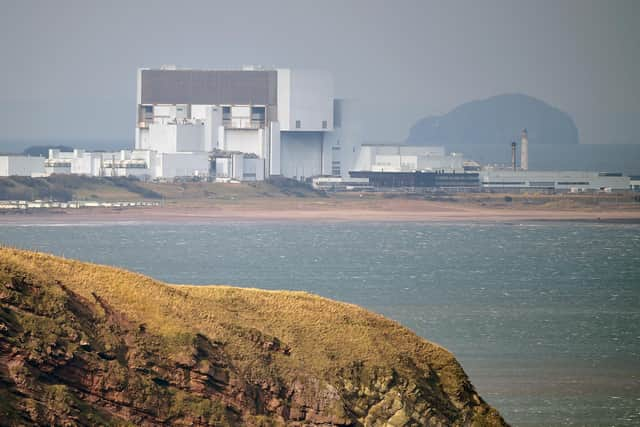 Proposals for a new nuclear fusion plant at Ardeer in North Ayrshire have been tabled, with local support. The council says it would produce "safe, clean energy to help the fight against climate change". But the SNP have effectively blocked this.
Securing the future of nuclear power is about creating and maintaining well-paid, unionised and skilled jobs, and many others across a large supply chain – in construction, delivery, decommissioning, Scotland's steel industry, design and more. To be successful, manufacturers need certainty so that a strong UK supply chain can be established.
A lack of domestic champions has often compromised the industry's capability. It is clear that the SNP's outright opposition stalled the country's nuclear programme in the 2010s. That is why Labour's plan to develop GB Energy, a new, publicly owned, clean-energy company, is so vital. The role of GB Energy will be to provide additional capacity, alongside the rapidly expanding private sector, to establish the UK as a clean-energy superpower and guarantee long-term energy security.
A publicly owned company is the best way to ensure that the British people can derive the benefits from the power that we create – delivering cheaper bills, good jobs, and bringing money back into the public purse. This will enable strategic partnership between the private sector and government to deliver clean power.
Many European, Asian, and American countries have public generating companies, like EDF in France and Vattenfall in Sweden, which partner with the private sector to increase capacity and build clean energy at scale. There is also the potential to develop sites and the manufacturing supply chain for next-generation technologies such as small modular reactors (SMRs). These are advanced reactors that have a power capacity of about one-third of the traditional stations, but have three key benefits.
Firstly, SMRs are a fraction of the size of a conventional nuclear power reactor, so they can be sited at locations not suitable for larger nuclear power plants. Secondly, they are built in a way that makes it possible for components to be factory-assembled and transported as a unit for installation, offering savings in cost and construction time. Lastly, they can be deployed incrementally to match increasing energy demand.
In early 2022, Rolls Royce SMR, a global leader in this technology, wrote to several of England's regional development bodies and the Welsh Government, asking them to pitch for manufacturing sites, promising investment of up to £200 million and the creation of up to 200 direct jobs. The shortlist has now been finalised – Deeside in Wales, Sunderland and South Tyneside, and Teesside – with a decision expected later this year.
The Rolls-Royce-led SMR consortium says a UK SMR programme could contribute £52 billion to the UK economy, create 40,000 highly skilled, well-paid unionised jobs and unlock an export market worth an estimated £250 billion. Scotland must bid for the jobs and funding available in future waves of investment as Rolls Royce and other manufacturers look to build more small modular reactors.
If the SNP are serious about climate change, bringing down energy bills and a green economic recovery, they need to reverse their opposition to nuclear energy and work at pace to get spades in the ground for many more projects, both big and small, built right here in Scotland.
Gregor Poynton is a campaigns and communications consultant, former Labour election strategist and Labour activist