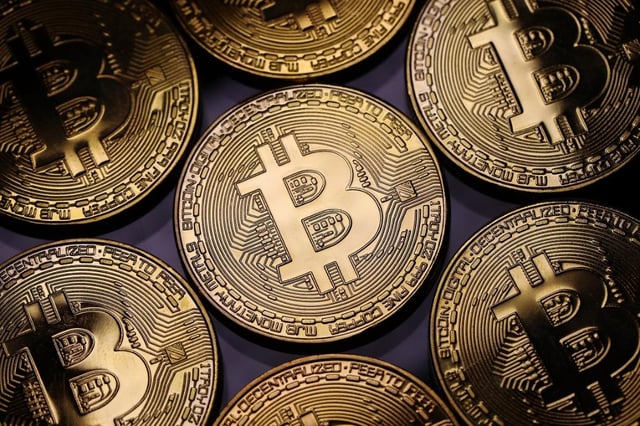 The price of Bitcoin recently hit record highs (Getty Images)
One can write a story on a crypto event and within minutes it is out of date. That is how fast this exciting, exhilarating and nerve shattering new industry feels just now. The Coinbase [cryptocurrency exchange] IPO coming up is one the hottest and most anticipated public offerings coming to investment firms in New York. But, with all the hype, gains and news, if one looks a little deeper, there is a curious, but welcome narrative developing.
That narrative is the cryptocurrency industry moving from retail investors like me, who have a seat on the rollercoaster, to the big boys, who own the theme parks. It has taken a while to arouse their interest, but they have now come to the party. What they bring is a bucket load of money, investment nous and a big ole network that has deep pockets. They are not what executive business school professors would call - early adopters - far from it. But, while they are only now entering the crypto sphere with their wonga, they are in fact still very early as crypto is only just getting a head of wind.
NYDIG, one of the leading providers of technology and investment solutions for Bitcoin in the USA, is a pioneer in the cryptocurrency landscape in funding tech infrastructure and startups in the Bitcoin scene. As you know, Bitcoin is the number one cryptocurrency by market capitalisation. Currently over $1trillion as I write. And at this valuation, it has now become interesting as an asset class to investors. This has now been evidenced by this month's $200m growth capital investment round at NYDIG.
In these type of investment rounds, one expects the new kids on the block who are already knee deep in these types of investment to pony up. Outfits like Bessemer Venture Partners and FinTech Collective come to mind. In this case they did invest in the NYDIG round. But, what makes this recent investment into Bitcoin technology more notable to small fry like me is the other names who opened their wallets. How about Morgan Stanley, New York Life, Mass Mutual and wait for it - Soros Fund Management - all included and now firmly at the cryptocurrency investment table. This heralds a new dawn for the retail investors who have invested their pocket money into cryptocurrency, while being scoffed at by financial advisers, banks and other stuffy types who are now feeling the pressure.
As I've predicted here before and I'm happy to take the bet on a quality bottle of malt whisky with all takers - I forecast a UK bank will offer crypto services to its customers within 2021.
It's no wonder that Ross Stevens, the founder and Executive Chairman of NYDIG stated, "I am thrilled by what this group of incredible investors will mean for NYDIG, but especially for Bitcoin." Bringing the likes of Soros to the table in crypto and specifically Bitcoin, adds real gravitas to a growing industry that can at times fly by the seat of its pants.
Bitcoin advocates such as Anthony Pompliano, an early investor in BlockFi and hedge fund manager Anthony Scaramucci both see Bitcoin trading around $100,000 by the end of 2021. That is a 100% gain from where it now. Time will tell, but as institutional money starts to flow into the system it could signal upward momentum and Christmas might come early for the boy scout investors like me. One thing is for certain, professionals like Soros don't play to lose. Just ask the Bank of England, who got a bloody nose from him in 1992.
Jim Duffy, Create Special