Northern Ireland shows the dangers of the politics of flags, which the great John Hume knew all too well – Brian Wilson
Marking this week's anniversary of the Good Friday Agreement, amidst an uneasy peace disturbed by a generation that does not remember the past, the Social Democratic and Labour Party posted a clip from a speech by its founder, the great John Hume.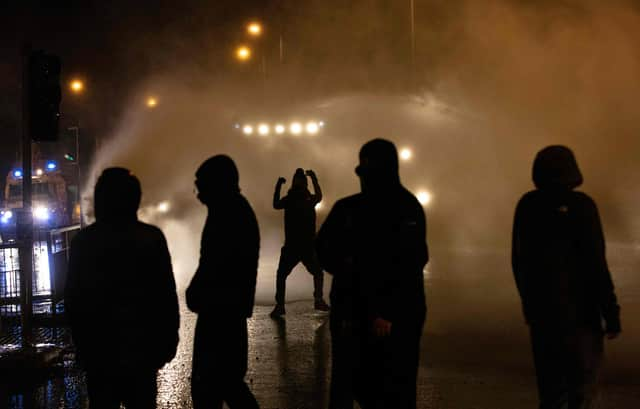 Police officer use water cannon as they clash with youths in the Springfield Road area of Belfast (Picture: Paul Faith/AFP via Getty Images)
It has had 600,000 views and I hope some of them were in Scotland for his message was of urgent relevance to our own situation.
"I never forget my first political lesson when I was ten years old," said John Hume. "The Nationalist Party were holding an election meeting at the top of the street and waving their flags. I was getting emotional too and my father who was unemployed saw that.
"He put a hand on my shoulder and said: 'Don't get involved in that stuff'. I said: "Why not, da?' He says: 'You can't eat a flag.' Think of the wisdom of that. Real politics is not about waving flags. It should be about developing the standards of living of all people."
That is as succinct an explanation as could be found of why I despise the politics of flags. One flag is no better in that respect than another when they represent the politics, not of unity, but of entrenchment; symbols of division that marginalise the dynamic of progress.
Whether we admit it or not, Scotland is now well on its way to the politics of flags, both literally and metaphorically. The language of "unionist" and "nationalist" has passed easily onto the lips of our commentators, to the exclusion of "right" and "left", "conservative" or "liberal". It is a dead-end political journey and very difficult to return from.
Both Nicola Sturgeon and Kate Forbes reverted this week to instancing Ireland as a source of inspiration for their cause. "If Ireland can do it, why can't we?" But do what, Ms Forbes? Create a state that after 100 years does not have a National Health Service free at the point of use? Would you wave your Saltire for that?
Nobody beyond the fringes would see any comparison between the British-Irish colonial relationship (in which Scots played a key part) up to the early 20th century and the one between Scotland and the rest of the UK today. There is no oppressor to escape from. So where does the analogy lie?
What they never mention is that Irish nationalism led to partition. Most of those who invoke Ireland as an exemplar for Scotland would endorse Irish reunification yet see no irony in seeking to partition the island and the state which we ourselves live in. The new language could equally be about Scotland's pro- and anti-partition parties.
While it is Britain that nationalism seeks to partition, divisions within Scotland itself would not end with any opportunistic referendum. On the contrary, there would be even more flags, whichever way the result went, triumphalism and recrimination reinforced. Then it would start all over again.
This week, we heard about an SNP manifesto which is entirely dependent on existing funding arrangements within the British state – the same entity which they demand to break away from without a clue about what currency they would use, far less how far it would stretch to maintain even what we have.
I oppose them not because I am a "unionist" any more than a socialist in Brittany or a conservative in Bavaria is a "unionist" within their own countries because that is not how politics is defined. As a nation which is part of a bigger state, Scotland is part of a European norm, rather than the unique exception that is pretended.
Until that is better understood, we are on a one-way journey to unresolved division. Anyone who thinks that will lead to anything good should remember the wise words of John Hume's da'.
A message from the Editor:
Thank you for reading this article. We're more reliant on your support than ever as the shift in consumer habits brought about by coronavirus impacts our advertisers.
If you haven't already, please consider supporting our trusted, fact-checked journalism by taking out a digital subscription.
Want to join the conversation? Please or to comment on this article.