Nicola Sturgeon's successor needs plans for independence and good governance rooted in economic fairness – Stewart McDonald
Leaders like Nicola Sturgeon come once in a generation.
She has dominated Scottish politics during her time as First Minister, steered the country through a once-in-a-lifetime pandemic and took support for independence to the highest level ever recorded.
For all these reasons, and so many more, Scotland's first female First Minster can be assured of her place in the history books. I will leave the hagiographies to others, but I could not begin this week's column without an acknowledgement of her tremendous achievements in office. She leaves a political legacy few can match and big shoes to fill. Scotland loses a First Minister and gains a stateswoman.
Similar was said about Angela Merkel when she stepped down as leader of her party after 18 years. And her successor showed just how easily these seemingly unassaible legacies can be washed away. Armin Laschet was seen as a safe pair of hands – continuity Merkel – but went on to lose the next election, deliver the CDU party's worst-ever electoral result and resign after 12 months in the job. After 16 years in government, his party now languishes in opposition.
Would-be First Ministers would do well to note this, and remember that Nicola Sturgeon is far from the only force that has transformed Scotland. The Brexit referendum and a global pandemic lie behind us, while war rages on the continent of Europe, inflation sits at over ten per cent and living standards, disposable income and life expectancy alike continue their death spiral. I haven't even mentioned technological development or climate change yet.
These are the issues that matter most to the Scottish people. My party's next leader must confront them head-on, with one hand constrained by the devolution settlement. When a figure like Nicola Sturgeon leaves office after years of bestriding the Scottish political world, her replacement cannot simply offer more of the same; they must also represent generational change and an evolution in political thought.
The tectonic plates have shifted, and my party must be willing to give new talent a chance to put themselves forward and test their ideas. Our political culture grows from standing on the shoulders of giants, not trying to mimic them. So just as Nicola Sturgeon understood the party needed a modernising upgrade in 2004 when she stood as part of a leadership duo, so too must any successful candidate offer the same in 2023. Maybe another duo is needed?
I know I'm far from the only person who has strong ideas about what the next leader of the SNP should do. I also know how much easier writing is than doing. As Shakespeare mused almost half a millennium ago, "If to do were as easy as to know what were good to do, chapels had been churches, and poor men's cottages princes' palaces."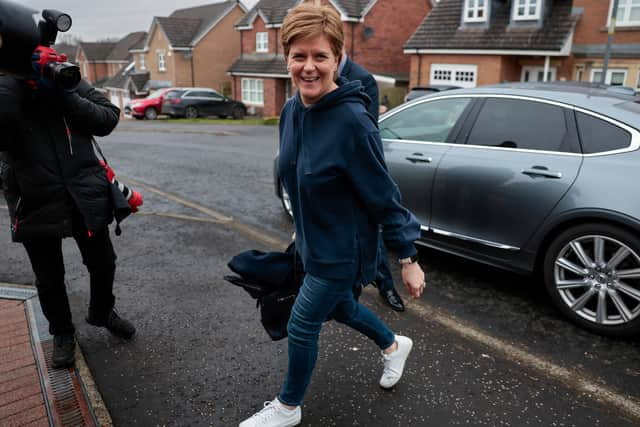 But the next First Minster must show the country that they are politically willing and intellectually able to face this brave new world head on, with all its challenges and opportunities. They must do so because the Scottish people deserve nothing less than a leader who understands their anxieties and who is willing to use every tool in their box to tackle them.
I think this means being willing to probe and test the limits of the devolution settlement to deliver for the Scottish people where the UK Government has failed or perhaps never tried. But these fights – as they inevitably become – must always be about improving Scotland's lot, and voters must be able to recognise this as such.
Indeed, a full 40 years after the Czech politician and scholar Ivo Duchacek noted that the presence of cities, regions and stateless nations on the international stage was simply "a fact of life in an interdependent world", the Scottish Conservatives were found whipping themselves into medically unhealthy levels of fury about the fact that the Scottish Government had dared to promote Scottish businesses abroad and made international efforts to attract foreign direct investment.
Even the Labour party, likely to form the next UK Government, have admitted that the current devolution settlement does not reflect the world as it is today. While the Scotland Act reserves foreign policy to Westminster, Labour's Shadow Foreign Secretary recently and correctly observed that "foreign policy has become domestic policy and domestic policy has become foreign policy".
I make this point not to suggest that the next First Minster should be a full-time globetrotter or foreign policy wonk. I simply want to highlight the uncontroversial fact that the development of political institutions often lags behind social and economic change. The First Minister of Scotland should not be afraid to point this out, and to make a clear and pragmatic case for increased powers – in line with similar legislatures across the world – to reflect the nature of the modern world.
This policy platform – one which recognises Scotland's place in a dynamic international system and delivers good government and public services – is not only one which can win elections. It is one which can deliver Scotland's independence, which, to win the votes of SNP members, candidates need a convincing plan to secure. If the SNP can continue to show that government rooted in local communities is more effective than government from a palace in London and make a case for independence that's about economic security and growing living standards in line with our western European counterparts, support for independence will rise.
This is no small task and will take a dynamic leadership team, immense discipline, and party unity. But it is no more and no less than the task that every other European capital is engaged in. If a candidate can craft a winning platform to deliver good governance, with a case for independence rooted in economic fairness, and have a realistic plan to breach the current constitutional holding pattern, they'll hit the sweet spot and win.
Stewart McDonald is SNP MP for Glasgow South
Comments
 0 comments
Want to join the conversation? Please or to comment on this article.