Nicola Sturgeon's resignation was light on reasons but long on self-justification – Brian Monteith
The First Minister's resignation announcement was vintage Sturgeon. It was as verbose as her self-declared legacy is already unmemorable.
She expressed little by way of regrets or admissions of failure and denied policy setbacks on gender reform and prisoner policy were factors – yet they will haunt and define her resignation narrative. If any further evidence is needed that Nicola Sturgeon no longer reads the room, or even cares to, her meandering and convoluted explanations of why, and why now, have simply ignited a debate about what the real reasons could be.
True, her eventual going will leave a big hole in Scottish political discourse. Debate will likely be less aggressive and quieter; confected grievances with Westminster should become less common and the day job will become overwhelming for whoever picks up her poisoned chalice.
For there is a litany of questions to be answered and calamities to be put right. Should the Section 35 order stopping the Gender Recognition Reform Bill still be challenged in court? Is it time to cancel the scandal-ridden ferries contract and retender for cheaper replacements? Should the Deposit Return Scheme be paused and quietly abandoned?
Should the formal coalition with the Greens be continued? Can the consultation of banning the advertising of alcoholic products be shorn of controversial conclusions? Can the dualling of the A9 regain the priority it deserves?
And those are just the easy questions. How to improve education standards and solve the incessant NHS crises will need deeper thought. Oh, and can credible and objective decisions be made by the Justice Department about the inquiries into the SNP's finances? The last could become especially problematic if the police have found evidence that merits further action.
Nicola Sturgeon has been a robust communicator and hardened campaigner, earning an envious record in winning elections – but when her foot soldiers look back at the campaigns and ask themselves, in all honesty, what was it all for, what did she achieve, their natural partisan loyalties will be sorely tested.
Personally, I believe Sturgeon appears to live on the hubris gained from past glories but that has left her out of touch with Scottish public opinion, with sympathy for her haemorrhaging. She may well be politically exhausted as a result of the mounting firefighting she was having to conduct but it was her own focus on putting independence before the real job, the day job, that made so many issues incendiary.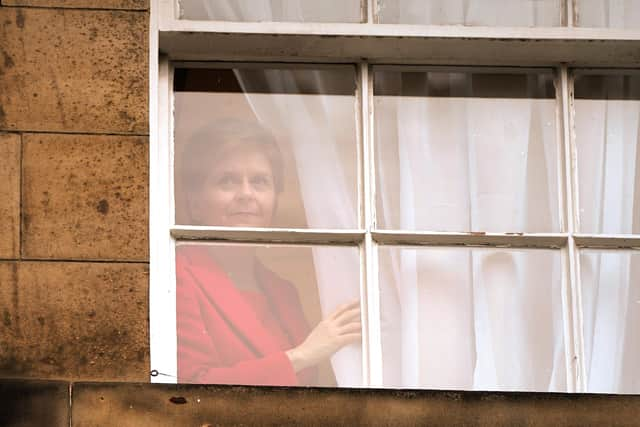 She leaves claiming to have built public support for independence to a majority position – only two days after a new poll found it was at its lowest position for years. All legal and democratic routes to delivering independence have been closed for now and gifting the discovery of a new strategy to the looming party conference is simply passing the buck.
Only right, then, that the First Minister's 45 minutes of self-justification was punctured at the end by the BBC's Glenn Campbell asking if police inquiries into SNP finances were a contributory factor. She brushed him off by refusing to be drawn as she left the room – adding more doubt as to what her true legacy will, in the end, be.
Brian Monteith is a former member of the Scottish and European Parliaments and editor of ThinkScotland.org
Comments
 0 comments
Want to join the conversation? Please or to comment on this article.