She will live long in the national memory, not least for her leadership through the Covid pandemic, when she distinguished herself as a calm, empathetic communicator able to soothe the concerns of her nation and win envious glances from voters in the rest of the UK, and further abroad.
She will also be remembered as a powerful campaigner for the SNP, her communication skills deployed to present a rational, serious and intellectually confident civic nationalism that allowed the movement to largely dodge the unpleasant questions – of presumptions of superiority, of selfishness, of sectarian divide – asked of many other nationalist causes.
But for all her presentational positives, Sturgeon's governments will also be remembered for their miserable public policy legacy: a trail of mis-spent public money, incompetent legislation and – latterly – an unmooring from public opinion.
Even the First Minister's formidable skills of communication appeared to be on the wane in recent months: her haughty, occasionally bad-tempered, responses to political to-and-fro served only to highlight the depth of trouble her government was in.
Sturgeon's troubles were significant, and her failures as First Minister were meaningful. In 2021, she branded Scotland's drugs deaths "a national disgrace", and announced a "national mission" to clear them up. Yet drug deaths – while falling from a peak at the time of the announcement – remain stubbornly high.
She famously asked to be judged on her record in education. Yesterday, indeed, she flagged as one of her wins the improved chances of young Scots from disadvantaged backgrounds reaching university. But recent figures also showed the attainment gap between rich and poor pupils wider than before the pandemic. And it was another of Sturgeon's touchstone issues – gender recognition – that took her administration into full-blown crisis, and underscored how her once sure touch had deserted her.
More problems are coming down the line. Opposition to the Deposit Return Scheme is coalescing not around the principle, but around the competence of the Scottish Government's plans for implementation. Sweeping changes to alcohol marketing rules – proposals the First Minister had to promise would not be as draconian as some fear – have shone a light on her administration's apparent hostility to the needs of business.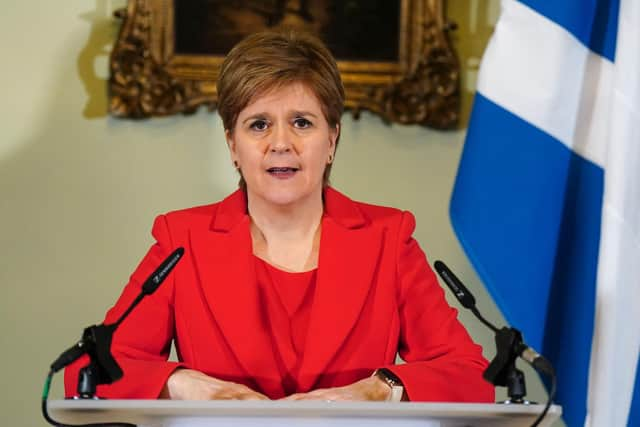 And, even taken alone, a court battle on gender recognition, and an ongoing investigation into the SNP's finances would occupy any political leader, let alone one in her ninth year of office. Her allusion to mounting fatigue was understandable.
All this means Sturgeon was right to resign. The failures we highlight are harming people and businesses, and it is right that someone else should have a turn at attempting to turn them around. But the nationalist movement cannot expect her departure to make things right.
As The Scotsman has noted many times before, the greatest advertisement for Scottish independence would be a devolved Scotland making a clear, positive difference for its population. But under Sturgeon's SNP, devolved government has failed to achieve anything like that success.
The irony is that Sturgeon's time in office pushed the goal she has chased all of her adult life – independence – further away, and the policy mess she leaves behind will take huge effort to untangle. But her departure, and the loss of the presentational discipline she could apply at the peak of her powers, will also have huge, negative impact to that cause.
For all these reasons, and all those messes, Nicola Sturgeon will be a tough act to follow.