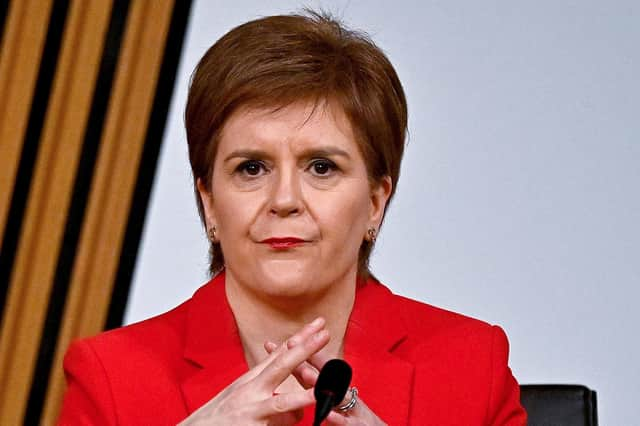 Now we have a party in serious trouble but remains well ahead, and senior SNP figures point to the undeniably yawning poll lead as evidence that what is widely being reported as a crisis is just wishful thinking by a "hysterical" opposition and the product of a febrile right-wing media in search of scalps.
If Friday's evidence to the MSPs by former First Minister Alex Salmond did not dispel that notion, then Tuesday's publication of the legal advice the Scottish government received about its disastrous defence against the judicial review brought by Mr Salmond should have swept away any doubts.
Mr Salmond has a spectacularly short temper, but he was the epitome of calm control as he outlined his case, each claim backed, he said, by clear evidence. On Tuesday that evidence was produced and, as he confidently predicted, it corroborated his claims.
Another statement from the ultra-loyal former SNP special adviser Kevin Pringle exposed a variance between what First Minister Nicola Sturgeon would have known about the handling of sexual harassment complaints against Mr Salmond, and what she repeatedly told Parliament she did not know.
Maybe none of this matters to the public, although the co-ordinated social media messages with the "IstandbyNicola" hashtag suggest SNP strategists think otherwise.
An STV poll last week did indeed have the SNP on course for an overall majority in May, but support for independence had fallen by four points to 52, and even a fifth of SNP voters felt "less favourably" towards the party. Ms Sturgeon's approval ratings were down eight, and the sample was taken before last week's events.
Another poll for the Sunday Mail, conducted before Friday's blistering session, predicted a narrow outright SNP majority, but found only 43 per cent of voters said they would vote Yes in a referendum, and when undecided voters were removed it was 50-50, down from 58-42 in October. Only a third of people in that survey believed she should remain as First Minister if the Ministerial Code had been broken, and Tuesday's documents strongly suggest she has, and should the parallel code inquiry agree, there is an expectation she should resign.
As expected, Ms Sturgeon rejected allegations of misconduct at yesterday's Holyrood inquiry, and yesterday morning's performance was as impressive as Mr Salmond's, but only the most blinkered Sturgeonista would argue her standing has not been damaged by the events of past six days.
Even if code breaches are found, her defiance yesterday indicates the chances of her walking away are minimal, not least because to do so would mean asking the public to vote for a party whose leader was unknown.
Elections expert Sir John Curtice's analysis indicates only a four per cent swing against the SNP would block an overall majority, which would mean no independence referendum, and the widening of already bitter internal SNP splits.
Bookmakers price no overall SNP majority at 5/2 and Ms Sturgeon to go by the end of the year at 11/10. That's worth a double.
A message from the Editor:
Thank you for reading this article. We're more reliant on your support than ever as the shift in consumer habits brought about by coronavirus impacts our advertisers.
If you haven't already, please consider supporting our trusted, fact-checked journalism by taking out a digital subscription.