Nicola Sturgeon should do more than talk about being a foster parent to help Scottish children in care – Susan Dalgety
As a leading political figure, Nicola Sturgeon could do much for the many children living in care
Here's a sentence I never thought I would write. I feel sorry for Nicola Sturgeon. Forced to resign prematurely as First Minister – and it's still not clear why she decided to hand back the keys to Bute House – she has yet to find a fulfilling new role. She might never.
Every politician who leaves high office – whether by choice, or when the electorate or their party decide their time is up – struggles with their afterlife. Their wishes are no longer everyone's command. Phone calls are not returned within minutes. Emails go unanswered. The journey between Glasgow and Edinburgh is far less comfortable when taken by Scotrail than cocooned in a ministerial limo. And watching your successor from the backbenches is tantamount to torture, no matter how close that relationship was once.
So when I see Sturgeon glory in moments of adulation, as she did at the recent Rainbow Honours in London where she was dubbed "Celebrity Ally of the Year" by the LGBT+ community, or learn that she is so bored she has joined LinkedIn, I feel a pang of sympathy. She who must be obeyed is now she who is easily ignored.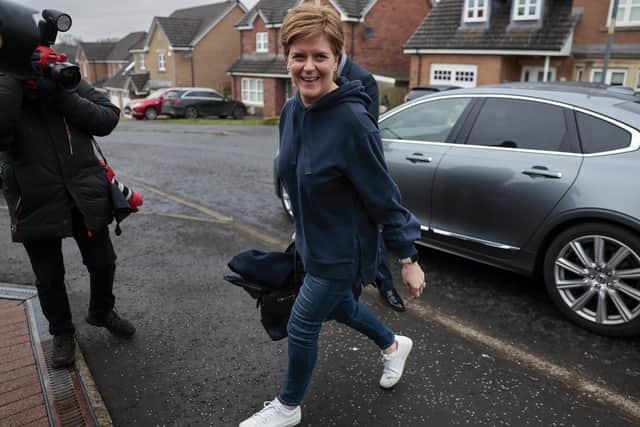 But my concern has its limits, and those were breached earlier this week when Scotland's former – and self-appointed – Chief Mammy reminded us that she was "thinking long and hard" about becoming a foster parent. Writing in the Daily Record, she said that the current system of care for children was "broken". "Young people who need love and nurture often end up adrift in a system that puts rules and processes ahead of their needs," she concluded.
This is not the first time Sturgeon has hinted, heavily, that she is considering a change of career. In a syrupy interview with Vogue magazine in 2021, she said that she would consider fostering after leaving politics. "It's something my husband and I have only scratched the surface of talking about," she added. But the seed had been sown.
The role of a foster parent is much more challenging than that of First Minister. I know several women who dedicate their lives to caring for vulnerable children. It's the toughest job in Scotland. One friend, who has been a foster parent for many years, told me she was really upset when she read Sturgeon's "self-serving" article.
She explained: "Cared-for children are all damaged by trauma to some extent. In my personal experience, all the foster children in the service I work with have been profoundly damaged. The impact on these children of adverse childhood experiences like sexual abuse, severe neglect, violence, or exposure to drug and alcohol abuse – which sometimes results in the death of one or both their parents – means that they need intensive, seven-days-a-week support. It takes back-breaking physical and emotional labour, and a lot of self-sacrifice, to be a foster parent. These children are not reputational accessories for retired politicians."
Nor are they human shields for a politician desperate to move the focus away from the police investigation into her party's finances while she was in charge. If Nicola Sturgeon was serious about fostering, she would resign her seat at Holyrood so she could dedicate herself full-time to caring for a vulnerable child, or children – where possible, siblings are kept together when they are in foster care.
And she would not write about her ambitions in a national newspaper, knowing full well that her comments on fostering would make headline news. These are indeed the actions of a self-serving politician desperate to remain relevant, not how an aspiring foster parent should behave.
There is a role for Nicola Sturgeon in caring for Scotland's most vulnerable children. Young people like those in Edinburgh's Heathervale Young People's Centre. A recent Care Inspectorate report revealed that the centre is so "unhomely" it affects the children's sense of worth. Windows leaked, there were no curtains in some rooms, the television was broken, there were holes in the wall, and some children slept on broken beds. But who cares?
Sturgeon says she does. So let's see her use what's left of her political capital to expose those local authorities, such as Edinburgh City Council, who are failing in their role as corporate parents. She could harry her parliamentary colleagues from the backbenches to ensure that resources for looked-after children are spent wisely. She could work to ensure that Promise Scotland, which she set up, is more than a glossy website and a collection of public policy platitudes.
She could dedicate her life to the 10,000 children already in care, rather than drop headline-grabbing hints that she wants to focus on one child. That would mean ditching her ego, focusing on delivery and results rather than meaningless messaging. In other words, she would have to change her way of working.
In a recent interview, Scotland's outgoing Children's Commissioner said that Nicola Sturgeon had "absolutely" failed to improve the lives of children while she was in office. Now she is no longer First Minister, she has all the time in the world to make amends. But does she really have the will?
Comments
 0 comments
Want to join the conversation? Please or to comment on this article.