Nicola Sturgeon inserting independence agenda in virus response, claims Brian Monteith
You know when a belief system has become an ideology when it is seen by those who hold it as justifying any and every decision.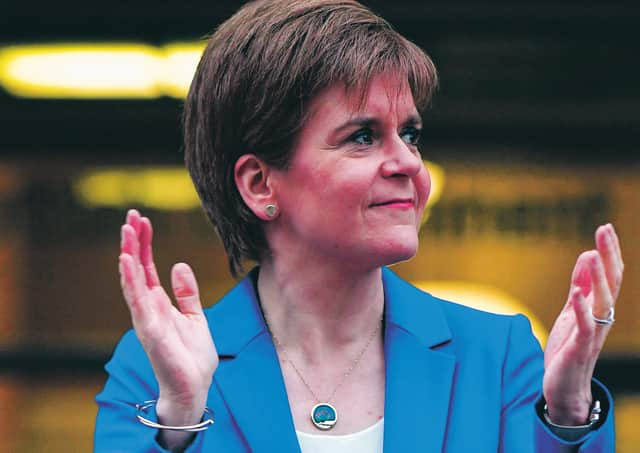 Scotland's First Minister Nicola Sturgeon takes part in a national "clap for carers" to show thanks for the work of the NHS. Picture: Getty
I write these weekly articles as a political columnist; I bring into them observations and judgments about economics, social behaviour, cultural changes and the comings and goings of ideas, statistical trends and political actors.
Within that context it is therefore my sad duty to warn readers that if there is any political lesson to be learned from the impact of the coronavirus pandemic it is that we in Scotland are witnessing the elevation of nationalism as an ideology that comes before policy.
I have many friends who support the concept of an independent Scotland, and they have my respect as they in turn respect my view to believe the creation of the United Kingdom was, and remains, the best place for Scotland to be.
We can all find it in our hearts to recognise there are some decisions that in these immensely challenging times – threatened as we are by an invisible killer that takes anyone's life irrespective of wealth, race, religion, sex or other mark of identity – are best made at a UK level, or more locally, depending on the context, efficacy and ability to make it happen.
I cannot, however, say the same of the Scottish Government as it is currently run by the First Minister Nicola Sturgeon – as I believe in the manner she deals with the coronavirus pandemic is to put ideology first.
Strangely, and it is only my own intuition, I believe I might feel differently were Alex Salmond still First Minister.
Since the beginning of arranging a joint UK-wide approach to the pandemic Nicola Sturgeon has been a fly in the ointment. At the start, when Cobra meetings were held that she was privy to, she sought to announce the decisions before the Prime Minister had walked out to the dais.
By her own actions she has put the joint working arrangements and sharing of vital information under severe strain.
Only from Scotland there emanates an unseemly contest with the rest of the UK – where a jingoistic SNP MP tweeted about differing death rates while other nationalists call for the Scotland-England border to be closed.
There has hardly been an instance of delivering the UK-wide approach in Scotland that Sturgeon has not rescheduled, reformed or renamed as the property of the SNP Scottish Government – even when it is not and when in every, repeat, every instance it has been paid for by all UK taxpayers.
This rebranding has not added value – it has been done to suggest the Scottish Government is making the difference, that it is in control and that were we independent we could cope – when the outcomes suggest precisely the reverse.
The establishment of a "Scottish" volunteer scheme was delayed by weeks when it could have been a UK-wide scheme immediately.
The UK-funded NHS Nightingale Glasgow was renamed after an unknown Scottish nurse.
The UK-wide support for businesses – as defined by their number of premises – was hijacked to fund other enterprises without any transparency of who was receiving the money or why.
Only when a stink was created in this and other newspapers about this scandalous behaviour did 
Sturgeon's finance minister slip out a belated announcement that
Scottish businesses would receive 75 per cent of what they had expected.
Had it been Sturgeon's desired choice it would have been centre of attention at her daily press briefing.
Meanwhile, she encouraged a wholly erroneous dog whistle about the English purloining PPE destined for Scotland to distract media attention from the real business support scandal.
Likewise, the provision of a list of vulnerable people for supermarkets and others to give priority to has still not happened when it has now been operating in England for approaching a fortnight.
In England local authorities are providing significant financial help directly to independent care homes so they can cope with the pandemic but in Scotland our local authorities are unable to give the same generous level of help because they do 
not trust the Scottish Government to pass on the funds made available to St Andrew's House from Whitehall.
One Scottish care group with fifteen homes providing 70 per cent occupancy from nine local councils told me none of them had yet felt able to give any financial assistance as they did not trust Sturgeon's government to reimburse the funds.
Let's not kid ourselves. At every turn the First Minister has sought to insert her own personal priority of Scottish independence into her response to the coronavirus pandemic.
She is putting ideology first and it should never be forgotten.
Brian Monteith is editor of ThinkScotland.org
Want to join the conversation? Please or to comment on this article.