Nicola Sturgeon: After expressing my respect for departing First Minister, I was inundated with abuse. We can't let the trolls win – Christine Jardine
There was something in those powerful well-crafted words with which Nicola Sturgeon closed the book on her time as First Minister which somehow reached out and touched even those of us who have been her political adversaries.
As the dust settles, attention will shift from acknowledging her remarkable career to assessing its overall significance and what might come next. And it's hard to escape the thought that something in her demeanour suggested that the emotional toll has been much greater than many of us suspected, and perhaps she too has felt the sharp sting of the increasingly abusive and misogynistic tone of debate which has characterised the SNP supremacy.
During more than two decades in parliament, eight of them as First Minister, Nicola Sturgeon has become an internationally recognised and nationally influential figure. Even her harshest critics, myself included, recognise that her clear, calm and assured handling of the pandemic provided exactly the sort of leadership which we needed at the time.
For that alone, we should recognise and applaud her contribution. But as speculation mounts about potential successors, I wonder whether the Scotland whose stewardship she's passing on is in any better shape than when she took the reins?
Have her priorities been the right ones for ordinary Scots? It would be churlish to suggest that during her career, Nicola Sturgeon's commitment was anything less than 100 per cent. But for many of us, her determination was too focused on the SNP's separatist cause, rather than the immediate issues affecting our lives and well-being every day.
The NHS, education, record drug deaths all seemed, at times, to take second place to that independence agenda. And perhaps significant unfulfilled promises like A9 dualling or failed projects like the census or those expensive ferries might have been achieved if they had been her main priorities.
Her supporters will, of course, point out that the break-up of the United Kingdom is the raison d'etre of the SNP. So why would it not be central to their aims in government, to be successful? But when public support for their cause had, at its height, the support of barely half of the population, it's a focus that I find difficult to justify.
And yet it perhaps points to why, ultimately, Nicola Sturgeon felt she could no longer carry her party's support. I have always felt that while I may disagree about policy with opponents in various parties, we all share a commitment to improving the lives of others. What binds us together is the desire to make the world a better place, however cheesy that might sound.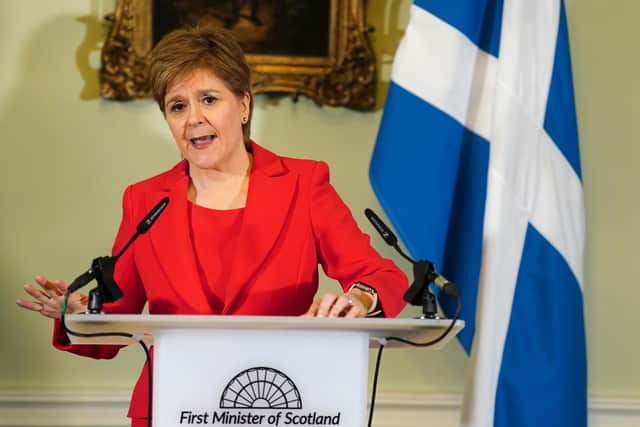 Our differences are for the most part about how that improvement can be achieved. It is the path we walk in search of progress which is different. But watching Nicola Sturgeon make what was an undeniably impressive resignation speech on Wednesday I couldn't help but ponder that the SNP does not fit that mould.
That commitment to independence above all has made everything else that their government does little more than expedient. Everything they do, they do in pursuit of independence. In every discussion, every interview with an SNP politician – or Green for that matter – since that speech it has seemed the only question of any import was: "What will this mean for independence?"
And in that, for me, we see the ultimate judgement on Nicola Sturgeon's time in office. What mattered the most was separation. She could not achieve it. That single focus on what is essentially an issue of identity was also a major factor in creating the other problem which the First Minister underlined as she took her final bow.
Our political discussions have become unremittingly abusive, and the misogyny increasingly blatant. On Wednesday evening, my Twitter account was, as ever, full of abusive derogatory comments. This time, however, it wasn't from angry nationalists incensed that I had dared to criticise their leadership.
No, these tweets were furious expressions of revulsion that I had dared to write anything complimentary about someone of whom the politest descriptor I received was "that woman". Somehow by acknowledging her contribution to Scottish public life over three decades, I had offended the zeitgeist and brought something approaching hellfire and damnation on my head.
How ridiculous. How offensive. Yet how typical of the times. Since the 2014 devolution debate, we have suffered a massive failure of respect in Scottish politics. We have all, in every party, been targeted by the keyboard bullies. Women most of all.
In creating a debate about identity, the nationalists led the way in 'othering' people. But we all bear a responsibility for allowing it to flourish. We also bear a responsibility to tackle it. As we move into a new era in Scottish politics, we must surely recognise that.
No woman should have to accept that a negative personal commentary or aggressive threatening messages are an unavoidable aspect of political and public life. Or that stepping aside after a lifetime of service will mean being described as weak. Why? Because we haven't often had politicians prepared to be that apparently candid about their reasons for departure.
So for the record, I may not often have agreed with Nicola Sturgeon in the past three decades but I respect her commitment to what she thought was best for Scotland. I recognise her contribution during the pandemic was critical to public confidence.
I was moved by her closing remarks and I know other colleagues were as they considered the weight of office and how that changes your life, not always for the better. However, I cannot help but wonder what Scotland might have looked like now if both she and her immediate predecessor had prioritised those issues which affect our daily lives rather than independence.
How much of what I felt was sadness for the country we could have had? Twitter, do your worst.
Comments
 0 comments
Want to join the conversation? Please or to comment on this article.