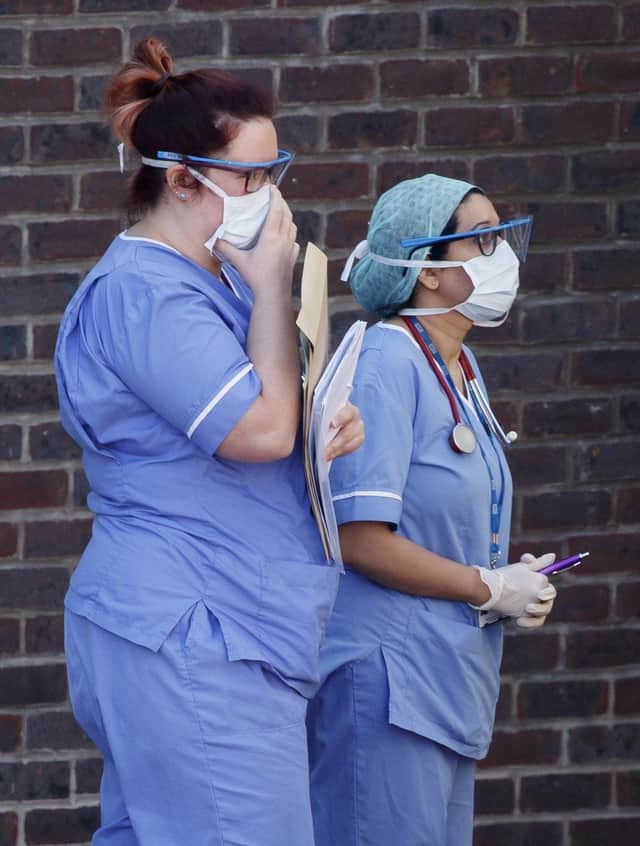 Hospital staff are working to save the lives of Covid-19 patients, putting their own at risk in the process (Picture: Danny Lawson/PA)
Every Thursday night, the nation has been coming to their doors and windows to applaud, cheer and serenade NHS and care sector staff, with bagpipes and other musical instruments joining in. And, at 11am yesterday, we took part in a more sombre event - a minute's silence for those who have died as a result of trying to save lives and look after people with Covid-19.
Such displays are meaningful and valuable for NHS and care-sector staff who are at the frontline of the battle against this deadly disease. We are showing that we care about them, that we recognise the danger they are facing, the bravery it takes to do so, and that we are profoundly grateful.
However, there are other equally important reasons why we should keep doing this.
Each and every one of us must remember that if we go out without good reason, if we flout the lockdown's restrictions, we are potentially helping the virus to spread, giving succour to our deadly enemy, and contributing to someone else's death, even though we might never know it.
So when we remember the dead, we should also remember our duty to do the right thing to help keep the death toll, among medical staff, care workers and everyone else, as low as possible.
And we should also think about how important the NHS is to us all and whether we have valued the health service and all its staff highly enough in recent years. Care sector workers also do a difficult job, one that many people would not want to do, for very little pay.
A decent rise may prove a popular step – if, of course, we are actually able to afford one when some semblance of normality returns – but finding ways to improve working conditions is perhaps a more important thing to do.
Those who work in the caring professions should be given time to care for people who are dying, seriously ill or badly injured. If they are too busy to do this, we are not only causing them undeserved stress, we are letting down their patients too. That's our fault, not the fault of an over-worked nurse. We should also ensure that never again is the life of a single health or care worker lost because of a lack of personal protective equipment (PPE).
They may not be in it for the money, but that's no excuse to sell them short while demanding the best healthcare in the world on the cheap.