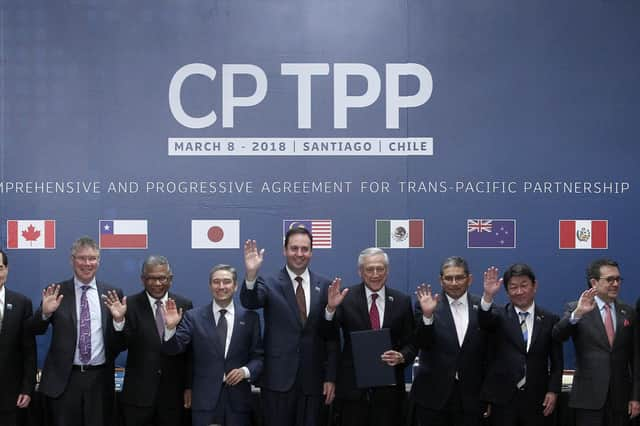 As political analysts readied themselves to dissect Yousaf's choices for ministerial patronage news broke the UK was being admitted to the CPTPP (Comprehensive and Progressive Agreement for Trans-Pacific Partnership) by the trading bloc's eleven founder signatories; Canada, Mexico, Peru, Chile, Australia, New Zealand, Australia, Vietnam, Singapore and Malaysia and Japan. The deal reflects the fact trade does not require close proximity to be valuable.
Our manufacture exports of high quality executive cars, aero engines, exemplary foods and drink, software design and financial services are only a few of the UK economic sectors that stand to benefit immensely.
The CPTPP is important because the real economic growth the UK has to tap into and benefit from is outside the economically stagnating EU and primarily in those trading nations of Southern Asia and the Pacific.
There have been criticisms of course, claiming membership of the CPTPP is of little importance compared to being a full member of the European Union. But it's not sub-optimal, it is highly preferable. The point is the CPTPP is simply a trading arrangement that offers great benefits to its members – it is not a political project and does not seek to infringe on our sovereignty to make the best democratic choices for ourselves for our people.
The CPTPP is different from the EU because it is all about trade – it is not a political union and as such it does not carry a huge deadweight of costs and bureaucracy, nor does it seek to tell all its member nations what labelling its goods should have, how much meat should be in a sausage or how bent (or straight) a particular vegetable should be. This liberal approach explains in part why such countries enjoy higher growth than the EU – the other part being their drive towards free trade rather than erecting trade barriers.
One example is how the UK has agreed to remove its existing import duties of up to 12% on Palm Oil imported from Malaysia while the EU is seeking to erect higher barriers to such trade.
Critics argue Oil Palm plantations cause deforestation but ignore it is better than growing Soybean, Sunflowers or Rapeseed because the higher yield of the Oil Palm means it requires less land to be cleared for cultivation. Secondly, Malaysia is a country encouraging sustainable Palm Oil production to reduce deforestation and it makes sense to reward its farmers by giving them our trade.
Unlike the European Union the CPTPP is not a political union and does not have need of a Parliament, for it neither passes laws nor enforces taxes on its members. There is no CPTPP army or border force telling our military forces or police what to do. There is no CPTPP single currency that we will in time be forced to adopt, no CPTPP central Bank setting interest rates that do not suit our economic needs, no free movement for citizens of CPTPP member states, no need of an anthem, a capital or a flag – or any wish to coalesce into a single superstate or pretensions to become a superpower.
There is no common fisheries policy or common agriculture policy with CPTPP members – we can set our own standards and agree our own tariffs, quotas and rules of origin . Nor any need for tens of billions to be paid by the UK into common funds – as there is no vast bureaucracy overseeing a huge and growing regulatory morass – as the CPTPP's purpose is for mutual trade to make poorer nations richer, not the transfer of subsidies to weak economies that only keeps them weak.
Critics of joining the CPTPP protest it is not as good as being in the EU to gain access to its single market – as if it is an either or arrangement. Conveniently they forget to acknowledge we actually have a trade deal with the EU that gives us single market access but leaves us free to have additional deals around the world without the EU's baggage or cost. No wonder the UK now has more free trade agreements (94) than the EU (79) according to Facts4EU.org.
Critics also seek to make fantastical claims about the economic impact being of little merit, when compared to the oft-quoted 4% loss of GDP from leaving the EU. This figure is not a hard fact but a modelled prediction based on a fall in immigration numbers – when the reverse is the level of nett migration is at an all-time high There will be no "hit", no loss of 4% GDP due to leaving the EU.
Indeed the latest trade data, analysed by British-based-Australian economist Catherine McBride showed that falls in UK trade in 2020-21 were not caused by Brexit but by the impact of the pandemic lockdowns. These included the shortages in semi-conductor manufacture and freezing of aircraft engine orders that are now correcting themselves. UK trade has since bounced back in 2022 with UK exports at record levels.
There is another reason the CPTPP is important; it has the real potential to become a poison pill by reorientating the UK's strategic interests as being truly global and not confined to the EU's fortress Europe. To re-join the EU will require the unwinding of the CPTPP benefits and the introduction of a far harder EU regime that bears little resemblance to the one we left.
Humza Yousaf will be here today but gone tomorrow while the CPTPP trade deal will have lasting benefits.
Brian Monteith is a former member of the Scottish and European Parliaments and Communications Director of GlobalBritain.co.uk