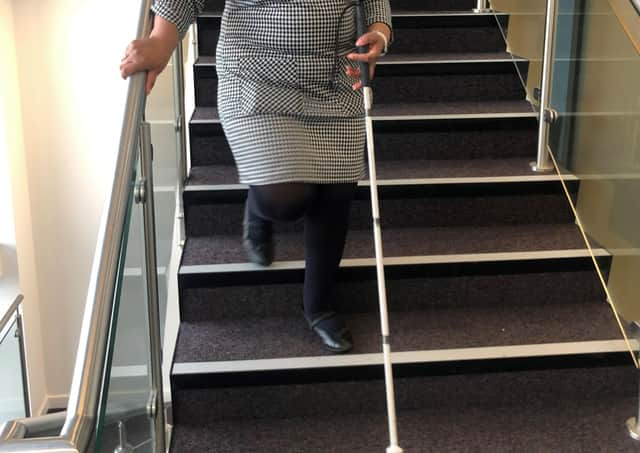 The easing of lockdown threatens to increase inequality for blind and partially sighted people in our society
When the Scottish Government published its route map out of lockdown many people started talking about getting back to 'something like normality' or a 'new normal.' There is a sense of relief that the worst of lockdown is over. We can now meet family and friends while observing social distancing and are even looking to the prospect of holidaying within Scotland. Our social media has been full of cheery pictures of people meeting up after weeks apart, more retailers are looking to open and schools are set to return in August.
Amid all the more optimistic talk of getting back to normality, very little time has been spent considering those people for whom this 'new normal' will not apply. For thousands of blind and partially sighted people in Scotland, social distancing means a return to normality seems a distant hope.
If you can't see who is around you, maintaining a distance of two metres from anyone else is simply not possible. This makes getting out and about very difficult for people living with sight loss, and has made shopping, using public transport, and even accessing public areas extremely challenging. People with visual impairment have been particularly affected by lockdown, which left many more isolated, having to cope with less support and struggling to access essential provisions like food. Now they face an end to lockdown which threatens to increase inequality for them in our society.
Mark O'Donnell, chief executive, Royal Blind and Scottish War Blinded.
While we are looking forward to an end to life indoors, many blind and partially sighted people are anxious about the new world which awaits them outside. New temporary cycle lanes are springing up to encourage more people to cycle to work. This can cause very real problems for blind pedestrians who can't identify the new lanes and often can't hear cyclists approaching. Pupils with visual impairment will face significant challenges in social distancing in our schools, as will blind and partially sighted employees in workplaces. Many people living with sight loss are worried about how people will react to them when they are trying to maintain social distancing without being able to see their surroundings. We were very concerned by the findings of a survey by Disability Equality Scotland that disabled people had been asked why they were outside during social distancing, with some even experiencing hate crime incidents as a result.
We are concerned the economic impacts of the pandemic will hit disabled people the hardest. Blind and partially sighted people of working age are already twice as likely to be out of work than people who are not disabled. Rapidly increasing unemployment threatens to make this inequality even worse. In our schools, while all pupils have been affected by the disruption in schooling, pupils with visual impairment already start at a disadvantage to their fully sighted peers and social distancing will present them with new challenges in the classroom. When decisions need to be made over how the costs to the public purse of emergency measures such as furloughing will be met, it is imperative the answer is not a continuation of austerity policies which have been devastating for the disabled community.
In recent decades, progress has been made in advancing the rights of disabled people. It's vital the pandemic does not mean the clock is turned back on these hard-won victories. However, today's reality is that fundamental principles established by the Convention on the Rights of Persons with Disabilities in relation to accessibility, social protection and participation are being breached. It is not enough to hope and expect employers, retailers and public services will respect their duties under equalities legislation when they make arrangements for social distancing. There must be clear guidance from government which offers them support and advice on how they can provide access for disabled people during social distancing, and which stresses their obligation to do so. It's also important there is a public awareness campaign so we all understand the obligation each of us has to help people with visual impairment cope with social distancing, and recognise that sight loss can be an invisible disability.
We all have a role to play to ensure this unprecedented situation does not become overwhelming for our blind and partially sighted citizens. We can achieve this if we are guided by kindness in our interactions with others as we all deal with social distancing, and if our government and public agencies are conscious of the need to do far more in these challenging times to protect the rights of disabled people.
Mark O'Donnell, chief executive, Royal Blind and Scottish War Blinded.