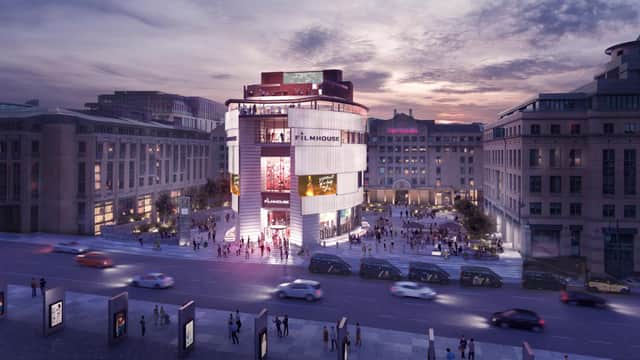 The new Filmhouse will be built in Edinburgh's Festival Square if it gets planning permission (Picture: Richard Murphy Architects)
Edinburgh has the richest collection of architecturally stunning, purpose-built cultural buildings – theatres, concert halls, galleries, museums, libraries – internationally recognised landmark homes for each artform, each of their time, and each designed and built for the long term.
However, film, the nation's most popular and most accessible artform, lacks anything equivalent.
The proposal we have submitted for planning permission aims to create a dedicated home for and celebration of film in Edinburgh's city centre. It will provide and be a community for film, where audiences, filmmakers and learners, local and national, can come together in the one space.
Submitting the planning application for the new Filmhouse in the midst of a global pandemic might seem like strange timing. However, this is a proposal that has been 30 years in the making, with detailed planning over the last three years leading to this point.
There is a huge amount of affection for the existing Filmhouse, partly because of the building and the location, but mainly because of its independence, of spirit, of identity and of programming, and its people.
However, cinemas built originally as churches, as Filmhouse began life in 1831, don't function well, as inspiring to our imaginations as they may be. Access for audiences is convoluted, corridors are narrow and renovations or even tweaks to design can be challenging and lead to unsatisfactory compromises.
The reality is that the existing building hasn't been fit for purpose for many years and we have no choice but to move, and soon.
The new Filmhouse will be unashamedly contemporary in design, but designed and built for the long term. It will be inclusive, inspiring and financially sustainable, and it will operate on a net-zero carbon basis from its first day of opening, allowing us to play our part in addressing the climate emergency. It will be sited within the heart of the city's cultural quarter, and will be the catalyst that transforms and animates the underutilised and unloved Festival Square.
As both the city and nation emerge from Covid-19, investing in our capital infrastructure will play an important role in stimulating our economy. There is absolutely a need and a role for projects such as ours, not despite but because of the economic situation we find ourselves in.
Over the first 25 years of the proposed development, it is independently forecast that the new Filmhouse will contribute £300 million to the economy. By 2035, it is forecast to sustain 290 full-time equivalent jobs and generate £21.8m of annual revenue that otherwise would not exist in Edinburgh or Scotland. Our economy needs this stimulus.
In addition, the purpose-built facilities will support the increased viability and sustainability of the charity in the long term, with an estimated net additional £250,000 being generated each year helping to fund the delivery of an expanded programme of activities and an increase in affordable ticketing.
Important as the financial arguments are, the impact will be felt more viscerally and deeply elsewhere.
The new Filmhouse will place film culture and content at the heart of Edinburgh and Scotland's cultural, social, economic and educational landscape, playing a leading role in championing industry development and film education benefits for the whole of Scotland.
Its planned activities will benefit emerging talent and the screen sector, through the sharing of ideas, experience and learning, and allow us to work with more programme partners and collaborating organisations to show exceptional films and create memorable experiences. It will play a key role in building and sustaining this increasingly important sector to Scotland.
We want to use the new Filmhouse to inspire people of all ages to fall in love with film. There will be a significant increase in capacity to support work with people wanting to learn about film, including more dedicated school screenings, screenings for people with different needs, formal and informal learning programmes and community engagement programmes.
From the beginning, we've worked to ensure the building will be comfortable, environmentally conscious and accessible and these guiding principles have informed every stage of the design. It will be fully accessible for visitors and staff alike, allowing us to welcome everyone, irrespective of ability or disability.
All this might seem a long way off and almost irrelevant just now, but what the restrictions around Covid-19 have clearly demonstrated is the intrinsic human need for and importance of the communal experience. It's central to our individual and society's well-being.
The new Filmhouse's design, set in an animated and welcoming public square refutes the idea that we don't need cinemas any more. It provides more social space than the current building, interesting spaces where you can have a glass of wine before the film, and a variety of breakout spaces where you can participate in film clubs, post-film lectures and community meet-ups.
And the screens will be substantially more comfortable spaces where you can experience that unique buzz of sitting with an audience just before the film starts.
The new Filmhouse will be a hub for everyone who loves film. Those that watch, seek to learn about it, make it or enjoy discussing it. It will be a place where ideas come together and inspiration is born. It is a beacon of confidence of our developing film industry here in Scotland which we can get behind.
Most importantly, like Edinburgh's other great cultural buildings, the new Filmhouse will be of national and international significance in its design and use, but first and foremost it will be for the people of Edinburgh.
If you see the value of our vision, you can help make it happen by submitting your response on the council planning portal by 1 February.
Sandy Begbie is chair of the Centre for the Moving Image, which runs the Filmhouse
A message from the Editor:
Thank you for reading this article. We're more reliant on your support than ever as the shift in consumer habits brought about by coronavirus impacts our advertisers.
If you haven't already, please consider supporting our trusted, fact-checked journalism by taking out a digital subscription.