New Cold War: World's democracies must wake up to a chilling new reality after massive cyberattack on US – Scotsman comment
"From Stettin in the Baltic to Trieste in the Adriatic, an iron curtain has descended across the Continent," Winston Churchill warned in 1946 at the dawn of the Cold War.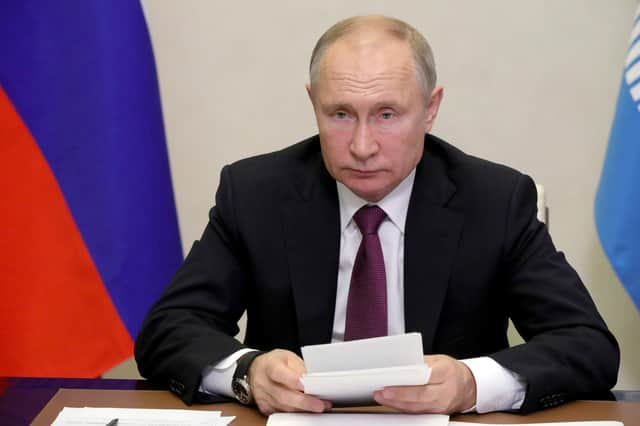 Vladimir Putin's regime has annexed part of a neighbouring country, Ukraine, is widely blamed for the fatal poisoning of a British woman, Dawn Sturgess, in a botched assassination attempt in Salisbury and is blamed for cyber attacks and election interference in democratic countries (Picture: Mikhail Klimentyev, Sputnik, Kremlin pool photo via AP)
The divide between the free democracies of the world and its tyrannical communist dictatorships could not have been more stark. The creation of the Berlin Wall and the summary death sentence for anyone attempting to cross it from east to west should have been more than enough evidence of that.
Today a New Cold War has begun with, again, democracy on one side and tyranny on the other. Russia's military annexation of Crimea from Ukraine in 2014, a grim reminder of Nazi Germany's annexation of the Sudetenland from Czechoslovakia a year before the Second World War began, remains one of the most obvious signs, but an undeclared cyberwar is the most widespread and persistent arena of this conflict.
The US has now revealed its government has been subjected to its worst-ever hack with the energy department, responsible for America's nuclear missiles, among the bodies whose security was breached. While the authorities have not named a suspect, they did say the hackers had shown "patience, operational security, and complex tradecraft" suggesting state involvement. Many suspect Russia was behind it, although other tyrannical states, like China and North Korea, have considerable form.
Microsoft also revealed malicious software had been discovered in its systems, with more than 40 of its customers, including some in the UK, being targeted. It stressed this was not "espionage as usual" but something far more sophisticated, creating "a serious technological vulnerability for the US and the world".
US President-elect Joe Biden called it a "matter of great concern", warning he would impose "substantial costs on those responsible for such malicious attacks", as Donald Trump ignored the attack and instead continued to lie about winning a "landslide victory" and berated "so-called Republicans" for failing to collaborate with his attempt to make himself America's first dictator.
The world's democracies have for too long treated dictatorial regimes as if they were trustworthy partners. By their actions they have demonstrated clear hostile intent and it is time to wake up to the reality of the New Cold War and the new Iron Curtain that now divides the world.
A message from the Editor:
Thank you for reading this article. We're more reliant on your support than ever as the shift in consumer habits brought about by coronavirus impacts our advertisers.
If you haven't already, please consider supporting our trusted, fact-checked journalism by taking out a digital subscription.
Want to join the conversation? Please or to comment on this article.