'National Conservatism' vs 'one nation' Tories: One by one, Rishi Sunak's Cabinet is gradually losing its rightwingers – Christine Jardine
Jacob Rees-Mogg, Nadhim Zahawi, Nadine Dorries, Matt Hancock, Priti Patel and Dominic Raab are no longer in government
A political battle is underway in the United Kingdom, but not perhaps the one that everybody might expect. With a general election just over the horizon, the governing party is facing mounting opposition, and this time from within its own ranks.
While Sir Keir Starmer presents the weekly challenge at the Commons' despatch box, for the Prime Minister it is the manoeuvrings of those beside and behind him on his own benches which seem to absorb Rishi Sunak's attention. A battle is raging for the heart and soul of the Conservative party.
Time and again in its 200-plus-year history, democracy's oldest continuous political party has reinvented itself to meet contemporary demands. And it looks like it is at it again. The internal conflicts over Brexit which blighted Theresa May's premiership are not only unresolved but are flaring up brighter and more threateningly than before.
It was Conservative backbencher and arch-Brexiteer Sir William Cash who raised the urgent question which heaped criticism on fellow ERG member and minister Kemi Badenoch. And Rishi Sunak, like Theresa May, has faced potential rebellion over policies like the current tax regime which that section of his party regard as 'un-conservative'.
But while it was the more right-wing-leaning MPs and ministers who lined up to speak at the recent headline-grabbing 'alternative conference', it may be neither the Conservative Democrats nor the National Conservatives who finally hold sway.
With Boris Johnson at the centre of yet another Covid-related, potential scandal, it is interesting to note that many of those who were his greatest supporters in government are either marginalised or set to stand down. Comparison of Rishi Sunak's Cabinet to that of his predecessor but one, shows that there is no Jacob Rees-Mogg, Nadhim Zahawi, Nadine Dorries, Matt Hancock, Priti Patel or Dominic Raab. Liz Truss and Kwasi Kwarteng's absences require no explanation.
And while Suella Braverman and Kemi Badenoch are still at the top table, the former is caught in the continuous loop that is the failing immigration policy and the latter is dealing with the fall-out from her u-turn over replacing EU laws. Not so long ago any combination of those individuals could have marshalled enough support and created sufficient pressure to make life difficult for a non-compliant Prime Minister and, in the case of Theresa May, they did.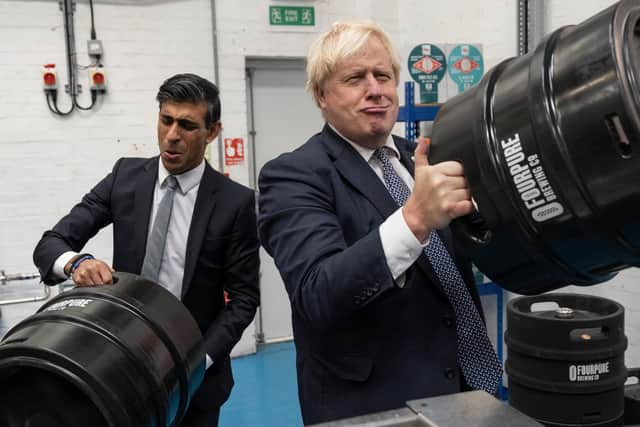 Now they are increasingly powerless through a combination of their own missteps and a Prime Minister who is proving quite adept at manoeuvring difficult characters out of the way. By allowing the process to take its course, Rishi Sunak left both Nadhim Zahawi and Dominic Raab with no option but to go, with no justification for their supporters blaming him.
Gradually the balance of power between Conservative factions is shifting. Senior figures who regard themselves as the moderate centre are confident they will soon regain pre-eminence. Rather than a new iteration of the brand for the next election, they hope it will be a remodelled version of the familiar 'one nation' conservatism.
If the opinion polls are to be believed, however, it is too late for either side, with appearances on This Morning not quite enough to win the hearts and minds of an increasingly tired electorate.
Comments
 0 comments
Want to join the conversation? Please or to comment on this article.