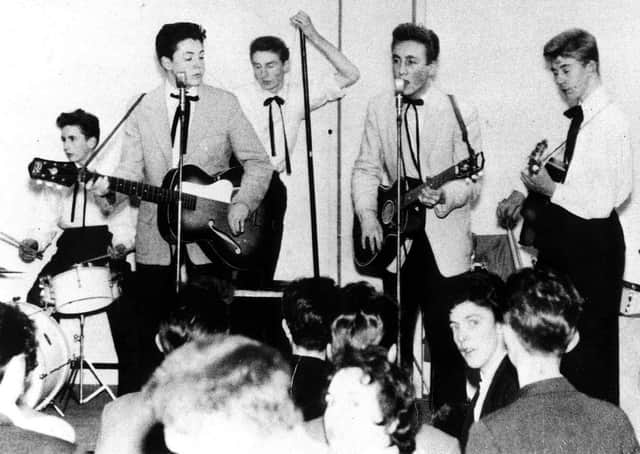 A 15-year-old Paul McCartney, left, with John Lennon, centre, makes his debut with the Quarrymen in 1957. Just a year later, he wrote When I'm Sixty-Four (Picture: PA)
There is nothing quite like a birthday to make you stop and reflect on your life. That, and getting comfortably tipsy on Aldi's Cremant du Jura.
I started writing this on my birthday, the one that Paul McCartney sang so jauntily about way back in the day. However, I am not renting a cottage in the Isle of Wight. Instead I am sitting in a campervan on the south coast of England listening to torrential rain batter our vintage vehicle, hoping it doesn't leak.
The fizz (yes, from Aldi) is chilling in our tiny fridge, next to the Gu chocolate mousse, and as it is still too early to crack either open, even on my birthday, I thought I would pass some time by pondering what I have learned since 1956. Here are my top ten lessons on life.
Number one must be don't start smoking, and if you are still addicted to the weed – STOP. Cigarettes kill you. My dad died only three months after his 64th birthday, the life choked out of him by emphysema, the legacy of 50 years of inhaling Golden Virginia tobacco.
According to a recent public health survey, the number of 15-year-old girls who smoke (seven per cent) is the lowest since the survey began in 1982, which is great news. But it's still too many. There is nothing glamourous about depending on a portable tank of oxygen simply to watch your favourite soap.
Next up is food. It's a simple fact of life that if you eat too much – more than 2,000 calories a day for a woman – you will get fat. And, yes, there are calories in gin. As the years have advanced, so has my waistline. Menopause added another few inches, as did lockdown.
I am now on the sixth week of the 5:2 fasting diet, where twice a week I consume only 500 calories a day. It seems to be working, but that's what I thought about the no-carbs regime until I faltered and binged on chips. So, eat less, move more. It is that simple. And that difficult.
Edith Piaf may have been a glorious chanteuse, but her legendary "Non, je ne regrette rien" was way off the mark. Of course, you will have regrets. We all make stupid mistakes, say things we don't mean, hook up with the wrong bloke, eat too much, take the wrong job. And sometimes, in the middle of the night, those regrets will sneak up on you and make you cry.
The trick is not to let your mistakes define your life. Keep moving forward, even if you are on a Zimmer frame.
The sublime Helen Mirren is responsible for lesson number four. When she was 70 (five years ago), she said the one thing in life she regretted was not telling more people to "f*** off". "You've got to have the courage to stand up for yourself occasionally when it's needed," she said. Right on sister.
Which brings me to my fifth tip. Stand up to bullies. In recent weeks, at least one bearded bloke has "reported" me to my publisher for being a "transphobe", hoping, I presume, that I would be dropped before my first book is published (February 2021).
In the current climate, where even JK Rowling is threatened with cancellation, it is can be tough to brush off such crude intimidation.
Only this week a young woman, Sasha White, was sacked from her job as literary agent for daring to say that "gender nonconformity is wonderful; denying biological sex not so".
After my publisher called to tell me about the messages he had received, I was more than a little frightened. Could my views on biological sex – which are the same as Sasha's – really destroy my lifelong dream of publishing a book? Should I tweet only cat memes? Stop having an opinion? Give in to the bullies? As Helen Mirren would say...
Lesson six is simple: be more like JK Rowling. Her decision to return the Robert F Kennedy Human Rights Ripple of Hope Award because of a "conflict of views" on the rights of women could not have been easy, but as she explained, "no award or honour, no matter my admiration for the person for whom it was named, means so much to me that I would forfeit the right to follow the dictates of my own conscience". Now that's integrity.
Tip seven. As soon as you possibly can, ie before you are 20, start saving for a pension. I used to think pensions were for cissies. Now, as I contemplate the next stage in my life, I realise that a Prada handbag, no matter how beautiful, will not keep me in Aldi fizz.
Vote. Vote for your local councillor, your MSP, in the next referendum, which is hopefully held long after I am dead, as the prospect of another divisive ballot based on identity fills me with existential dread.
Voting is the most powerful thing we can do. It is how the NHS was established. How Trump will be defeated. Lesson number eight is not really a tip, more an instruction. Vote.
My penultimate observation is hardly revelatory, except perhaps for Generation Z. We all age, yes even those bright young things who look down on us Boomers for using full stops. One day, you too will be ridiculed by your children for not being woke enough.
Don't be afraid of age, it can bring a certain serenity. Sadly, it can also herald ill-health, poverty, and isolation.
Scotland has one of the lowest rates of healthy life expectancy in the UK, at 62.6 years for women. At the risk of repeating myself – a trait I seemed to have acquired in recent years – don't smoke, eat less, move more, and start a pension before you buy your first designer handbag. And vote. My final lesson should be my number one. It is a well-worn cliché, attributed to John Lennon, but it actually first surfaced the year after I was born in that most Boomer of publications, the Reader's Digest: "Life is what happens to you while you're busy making other plans."
Like most people I had 2020 all planned out. I should be sitting in France today, celebrating my birthday drinking rose wine in the sunshine with my best friend. Instead I will FaceTime her.
A global pandemic put paid to my travel plans. And my work schedule. And those of my family and friends.
But we are all still here. Making plans. Just as long as we remember to live a little too.
A message from the Editor:
Thank you for reading this article on our website. While I have your attention, I also have an important request to make of you.
With the coronavirus lockdown having a major impact on many of our advertisers - and consequently the revenue we receive - we are more reliant than ever on you taking out a digital subscription.
Subscribe to scotsman.com and enjoy unlimited access to Scottish news and information online and on our app. With a digital subscription, you can read more than 5 articles, see fewer ads, enjoy faster load times, and get access to exclusive newsletters and content. Visit www.scotsman.com/subscriptions now to sign up.
Our journalism costs money and we rely on advertising, print and digital revenues to help to support them. By supporting us, we are able to support you in providing trusted, fact-checked content for this website.