My mother died in a care home during Covid – for me, the public inquiry is personal - Murdo Fraser
She had given me life. I would have liked as her son to at least hold her hand as she lost hers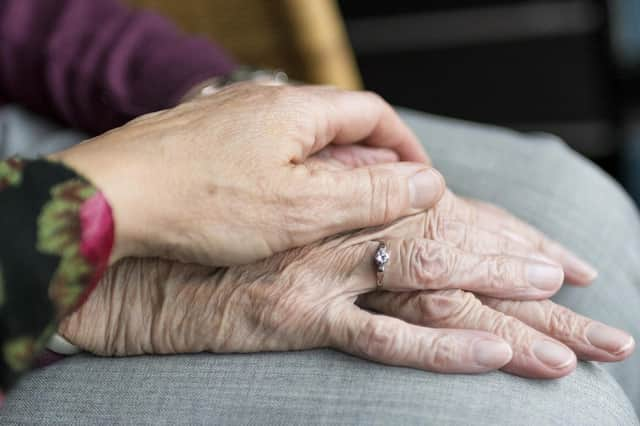 Friday December 18th, 2020 was one of the hardest days of my life. In the midst of the Covid lockdown, we had to take my mother to a care home. It was the last time that we would see her before the stroke that killed her some months later.
My father had just suffered a stroke himself at the age of 91, and was in hospital with no prospect of recovery. He died the next day. He had been for years the selfless carer for my mother, who by this stage had advanced dementia.
It became quickly apparent to the family that she was in need of 24-hour care, and that could only be provided in a professional setting. We therefore took the incredibly difficult decision that she should enter a care home and leave the house which had been her family home for almost sixty years. It was a small blessing that, given her condition, she had little awareness of what was happening.
As we packed up her belongings, we did not imagine that this was the last we would see of her in a conscious state. Due to Covid restrictions, visits to care homes were a practical impossibility, and families were actively separated from those whom they loved.
My own family's very personal experience was repeated across the country for thousands of others. This is what was described at the Scottish Covid 19 Inquiry last week as care home residents being like "exhibits in a reptile house".
Amber Galbraith KC, speaking on behalf of Care Home Relatives Scotland (CHRS), told the Inquiry of the experience of family members not being able to sit in the same room with their parents, and seeing them only through glass, as if in a prison. She also told of a member of CHRS who sat two metres away from her mother and had to watch as she was physically restrained from walking towards her for a hug. It was a horrible time for all involved.
We all know the risks that Covid presented, particularly to the elderly. We have heard the concerns raised about individuals being moved from hospital to care homes without appropriate testing to see whether they carried the virus.
And yet, I have to ask: did the visiting restrictions not create greater suffering? Elderly patients in care homes had to be protected from the risk of catching a deadly virus, but was the loneliness and isolation from loved ones which the draconian rules introduced by our Governments ensured equally damaging, if not more?
Others might take a different view to me, but in the case of our own family I would rather have been able to see, hold and chat to my mother in what would turn out to be the last few weeks of her life, even if it did carry with it a risk of infection, rather than see her die alone and without family contact. She had given me life. I would have liked as her son to at least hold her hand as she lost hers.
People who enter a care home do so not expecting ever to leave them. Is their quality of life whilst they are there, in what will be the last few years, months, or even weeks, of life, not more important than reducing the risk that that life might be shortened still further? I know what my mother's view on that balance of risk would have been, but neither she nor we were ever in a position to make that choice. It was one that our Governments made for us.
Now that the Scottish Covid Inquiry is properly underway after substantial delays, I hope that it will give careful consideration to all these issues. I am not looking to blame anyone for the awful experience that I and my family went through with my parents. At the time we were not clear exactly what we were dealing with, and what the risks were. But I hope that with the benefit of hindsight we will now properly consider whether the negative impacts of the severe lockdowns that were imposed outweighed the benefits.
We need to have the fullest possible picture of why both Scottish and UK Governments took the decisions that they did around Covid restrictions. That is why the work of the parallel Inquiries in London and Edinburgh is so important.
And it is vital that these Inquiries have access to all the information that they require. At First Minister's Questions at Holyrood last Thursday, Douglas Ross highlighted the concern raised at the UK Inquiry that WhatsApp messages passing between those taking key decisions have been deleted. Over the course of the weekend, it was reported that similar messages from the then First Minister Nicola Sturgeon and former Deputy First Minister John Swinney had also disappeared.
This is simply breathtaking. The establishment of the Scottish Covid Inquiry was announced by Nicola Sturgeon back in May 2020, and a promise was made that all relevant material would be made available to that inquiry.
And yet it appears that, even after that point, messages passing between senior Government ministers and officials, which might be highly relevant to the work of the Inquiry, were being deleted.
People like me and my family who lost loved ones due to Covid, and suffered as a result of lockdown restrictions, deserve the truth.
Covid was a pandemic that took lives and shattered families. It was not a media opportunity for politicians to make their name. Nor should the Inquiry into how the pandemic was handled be a grubby exercise in trying to preserve the reputations of politicians past and present.
My mother and father taught me to stand up and be counted. Those who took decisions – right or wrong – should honour their memory and that of millions of others by telling the truth.
Comments
 0 comments
Want to join the conversation? Please or to comment on this article.