More resources needed to support those experiencing grief and bereavement - Ellie Wagstaff
For thousands of people across Scotland, bereavement has become an exhausting addition to daily life. The last two and a half years have been relentless, with many trapped living with their grief with few places or people to share those feelings with.
During the festive period, those absences will have a greater presence around dinner tables and at occasions which many of us would normally forward to.
The Commission on Bereavement was established to explore what bereavement support is needed both now and in the future. Evidence submitted to the Commission identified many different challenges associated with bereavement, as well as some examples of good practice.
It showed resources must be made more available to help family, friends, communities, schools and workplaces support someone who is grieving.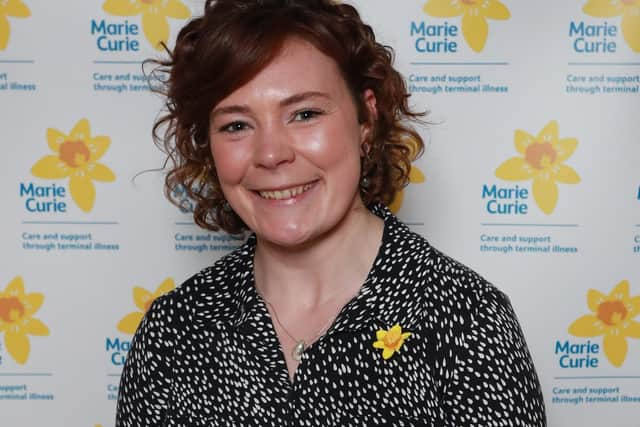 A Scottish woman in her 50s whose husband died during Covid told the Commission: "I suffered PTSD and a breakdown and had to change my job to part time as I couldn't cope".
A Scottish man aged between 40-50 whose wife died, also told the Commission: "Family zero. Friends zero. Community zero. Pretty much left to it with disabled children to manage".
There is collective responsibility for Governments, both national and local, education settings and employers to enable better access to the right support through all stages of bereavement, recognising this can include even before a person has died.
The pandemic has increased conversations about dying, death and bereavement through being part of daily life in some form, but for many this has not been out of choice or in the right circumstances.
There is still a long way to go in normalising those conversations in the right way, as there have been significant challenges in the way this shift has taken place, including how people have experienced grief as part of their professional life as well as personal.
Isolation and loneliness have been at a peak especially during Covid, and access to the right support is a vital aspect of being able to process grief and learning to live with loss.
Many services rely on people coming forward proactively, and from existing research, seldom heard groups face some of the most acute barriers accessing bereavement, health and social care support. This means that some of the most vulnerable populations with complex needs are not fully supported.
Experiences of bereavement have also varied massively depending on circumstances. Someone grieving for a person who has died suddenly, and someone coming to terms with the death of a terminally ill person after a long-term illness will have very different bereavement support needs, and experiences in referral to those services.
There is a huge risk that grief has become too circumstantial and less compassionate because of such high numbers of deaths over the last two and half years.
Many are not getting the full opportunity to process their grief both personally or professionally, meaning they are more likely to experience delayed trauma. How ready are services to simultaneously cope with increased demand in bereavement support, but also changes in need as, for many, grief has become much more complex?
These are questions which Governments, education providers and employers must consider to better support people who are experiencing grief and bereavement. Solutions must include:
Developing and investing in the transformation of bereavement services over the next five years, particularly focusing on supporting seldom heard groups, including those experiencing financial hardship
Ensuring the National Care Service commissions tailored bereavement support and signposting, which is accessible to all
Developing a new, national bereavement strategy in Scotland that recognises bereavement support as a human right
There is a crucial opportunity for improving bereavement support, and we need to move forward as a matter of urgency.
Ellie Wagstaff, Senior Policy and Public Affairs Manager, Marie Curie
Comments
 0 comments
Want to join the conversation? Please or to comment on this article.