Michael Sherin: After pitiful pay rise don't tell care workers on front line they're valued
The announcement by the Scottish Government and local authority body Cosla of a 3.3 per cent pay rise for social care staff would be an insult in the best of times but coming now, it's risible.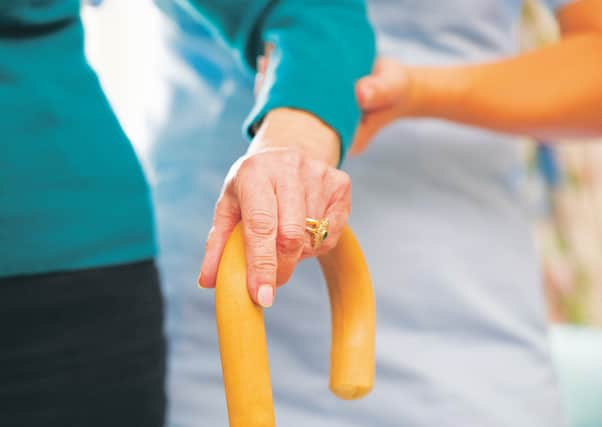 It serves only to demonstrate – again – how out of touch they are with the situation on the ground for care workers, who are putting their lives at risk during this pandemic.
Health Secretary Jeane Freeman trumpeted the announcement, saying: "Scotland's dedicated social care workers are on the front line of our national pandemic response. Their work is always hugely valued, and never more so than now.''
I don't need reminding I'm on the front line.
However I'd like to challenge the idea that we are "hugely valued", and to put that into some sort of context, I'll use my last payslip to illustrate.
Between 30 March and April, I worked three 12-and-a-half-hour shifts, but was paid for 36 hours as we're not paid for all breaks.
In addition, I had eight hours' holiday pay so my gross pay was £426.20, and after tax I earned £331.81.
So the "pay rise" would increase my hourly rate by just under 32 pence or £11.50 for a 36-hour week.
Thanks Ms Freeman, I'm not sure I'd find the time to spend it!
But why this now? There are claims it's just spin on an agreement previously made, which would make the whole thing a horrible, cynical exercise.
The pay rise is certainly not a response to the increased danger that we care workers are putting our lives in.
In any case, I value my life a lot more than an extra £11.50 a week.
How can anyone claim our work is "highly valued" when, to add insult to injury, the personal protective equipment (PPE) that we're being provided with is arriving piecemeal. And as the recommendations and advice on its use changes, it's sometimes confusing and in certain circumstances may not be wholly adequate.
Most of the women that I work with – 80 per cent of the UK workforce is female – are full-time employees of the council and take extra shifts to boost their wages.
Sometimes they'll work 60 hours a week and be lucky to take home £500.
The incremental pay scale is so bad that women with 20 years' experience of care work often don't earn much more than someone like me, who has been doing it for about four years.
It feels like words are cheap at the moment, in the same way that lives have become cheap and neglected.
We – all of us working in care, from the domestics and kitchen staff to handymen/women and those who remove clinical and domestic waste – feel undervalued.
The Prime Minister declared on Easter Sunday that the NHS is "run on love". That's a lie, it's run on insufficient funds and the dedication of people willing to put their own lives at risk, to save others, many of whom don't earn enough for a reasonable standard of living.
It's a lie to say that our work is highly valued and these lies need to be called out. Just like the NHS, the care sector is run on the graft of hard-working and mostly poorly paid workers.
It's care and concern for the most vulnerable that keeps us doing our job.
Speaking about the pay rise, Cllr Stuart Currie, Cosla health and social care spokesperson, boasted that councils had worked hard together to secure this pay rise which confirms the National Living Wage for care workers, in recognition of their invaluable work.
I'd like to know who was consulted about this agreement; no one I work with certainly.
We would have appreciated it if Cosla and the Scottish Government had consulted with us in a decent and respectful manner so that we might have collectively reached an agreement that properly values our work and lives. We are clearly not "all in this together".
At a time when the government is paying people up to £2,500 a month to stay at home, carers are in at the deep end and some of us are dying, trying to make sure that others don't.
I sincerely hope my epitaph won't be: "His work was valued."
Michael Sherin is a care worker
Comments
 0 comments
Want to join the conversation? Please or to comment on this article.