Meghan and Harry Oprah interview: Revelations show the need for Royal Family to modernise more quickly – Scotsman comment
It has been talked about for so long that the idea of modernising the Royal Family now almost feels old-fashioned.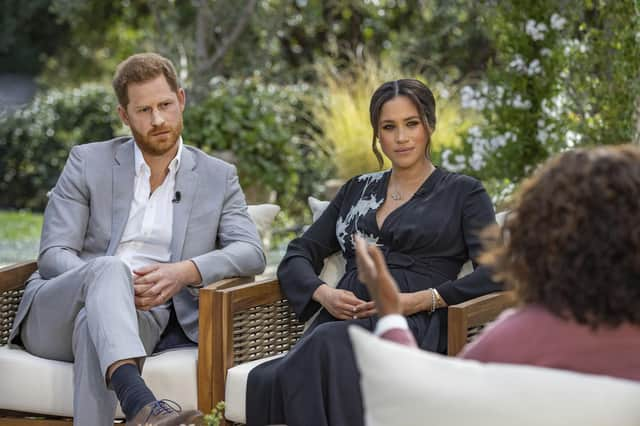 The Duke and Duchess of Sussex, Harry and Meghan, during their interview with Oprah Winfrey (Picture: Joe Pugliese/Harpo Productions/PA Wire)
However, the extraordinary interview given by Duke and Duchess of Sussex to Oprah Winfrey suggests this is an institution that, at best, has failed to move with the times and, at worst, may be a place where bigotry is somehow still acceptable.
Meghan who is clearly a capable woman but one unversed in the British Royal Family's habits and practices which may seem particularly strange for someone from the republic that is the United States, said her experience as a member left her contemplating suicide. That is a revelation which should make everyone pause for reflection.
Whether or not the claims made in the interview are entirely true and fair is only really known by the people directly involved, while the rest of us look on from afar. It may be hard, but we should resist the temptation to rush to judgment on one side or the other.
However what is clear is that this is a family in turmoil partly because of the way the monarchy operates in the UK – which is very different to other constitutional monarchies – and that these claims are severely damaging to that institution.
The need to combat racism and care for mental health are two issues that resonate strongly with the younger generation in particular and, if support for the monarchy is to be maintained, that is obviously an important audience.
For many people, Harry and Meghan seemed to be the most 'normal' members of the Royal Family and yet they are the ones who have been pushed out or felt they had no other choice but to leave.
Ironically, the answer to all this may lie partly in Prince Charles' reported plans for a slimmed-down version of the monarchy in which some current royals would essentially have to do something similar to Meghan and Harry.
But the modernisation process, such as it is, has simply not gone far enough or fast enough.
That said, it is important to remember they are all just people and it is a sad thing when relationships in any family break down to such an extent. We wish them all the best.
A message from the Editor:
Thank you for reading this article. We're more reliant on your support than ever as the shift in consumer habits brought about by coronavirus impacts our advertisers.
If you haven't already, please consider supporting our trusted, fact-checked journalism by taking out a digital subscription.
Want to join the conversation? Please or to comment on this article.