Maybe Boris Johnson isn't bluffing, maybe he is this dangerous, says Lesley Riddoch
Does the Cummings fiasco reveal Boris Johnson's dependency on one flaky adviser, or something more worrying – a Prime Minister guided not by science or evidence, but by a deep-seated aversion to rules, plans and systems of any kind?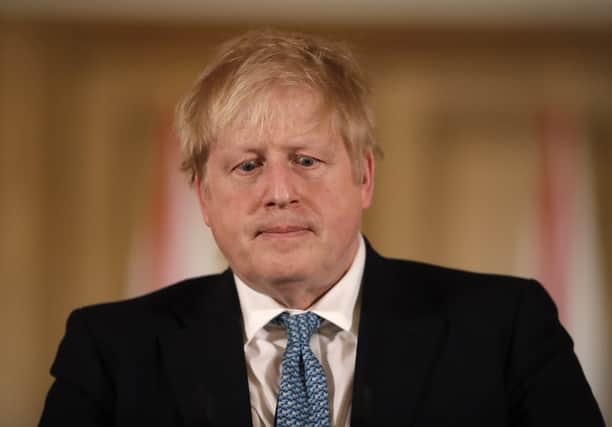 Clearly Dominic Cummings' ill-judged trip to Durham bent the lockdown regulations out of shape, destroyed the credibility of colleagues sent out to defend him and confirmed that top Tories have one rule for themselves (no rules) and another for everyone else (whatever works at the time). Generally, though the Covid and economic mistakes of Boris Johnson's government are not so much about double standards as the failure to have any standards at all.
Dominic Cummings' defunct think tank is quite an eye-opener for those tempted by "free-for-all" philosophies. 'New Frontiers' backed a Fox News alternative to the BBC and opposed state involvement in the NHS – it would be entertaining to hear him explain that one right now. But never mind the monkey. What about the organ grinder?
In March the Prime Minister agonised openly over the most difficult decision that faced him – denying "the ancient, inalienable right of free-born people to go to the pub". Most folk presumed this bizarre statement was just clumsy buffoonery from an old Etonian in search of a common touch. But suppose Boris meant it. With a death toll of 177, and the certain prospect of many more fatalities on his watch, the horror of removing the freedom to do what you like was mesmerisingly awful. Was his admission just a light-hearted distraction from the horrible stuff ahead, was the Prime Minister in denial about Covid's likely impact, was it "just Boris" or did it reveal that this Tory leader is temperamentally incapable of embracing intervention, regulation or rules with any kind of enthusiasm – even when facing a pandemic?
Driving with your hands off the wheel is dangerous at the best of times. But the Prime Minister's almost instinctive aversion to imposing restraint meant that mass spectator events like the Cheltenham Festival and Liverpool v Atletico Madrid match went ahead, airport checks on folk from Covid hotspots did not and Britain moved too slowly into lockdown, with the probable loss of thousands of lives.
When that nearly included his own, Number Ten seemed to change its tune. Rishi Sunak's furlough scheme was confidently interventionist, and Boris himself was finally clapping the nurses whose pay rise he's recently helped to block. Maybe a more benign, cautious and evidence-led Toryism was emerging?
The Cummings affair proves we can forget all that. The trip, the ludicrous explanation, the failure to apologise and the blundering explanatory efforts by ministers on TV have revealed the worst kind of herd immunity at work – a shared, instinctive aversion to rules, restraint, evidence and even consistency in Boris Johnson's cabinet. Rule aversion – not science – now drives government policy.
Witness the latest absurd development in England's unlockdown strategy when Dominic Raab confirmed yesterday that England is still at Level 4 in the government's traffic light system. This means lockdown rules must be maintained. But some children will return to school today and more businesses are opening because England is somehow also "transitioning" to Level 3. No, it doesn't make any more sense than driving 60 miles to test your eyesight. But we now know that Number Ten doesn't care.
Like it or lump it, their pseudo scientific system of traffic lights with its semi-adopted rules is the best that Boris, Michael and the Dominics can come up with. The majority of scientists think England is emerging from lockdown too fast, but their views are now irrelevant. This government's whole track record, from lethal benefits "reforms" to the imminent Brexit car crash, all demonstrate that evidence exists to be ignored, mainpulated and occasionally endorsed, as convenient. Caution is for softies, being risk averse is for saps, bairns and leaders of devolved administrations, and being rule averse is the mark of belonging to the daredevil Tory leadership cadre. The dangers of such an approach driving Covid "strategy" are all too apparent – the impact of such a buccaneering outlook on Britain's long-term economic recovery, less so.
But the worrying signs of a standards and regulation-free future are piling up, chief among them the removal of environmental standards from the Agriculture Bill in preparation for a no-deal Brexit and no-hope trade deal with Donald Trump.
It's encouraging then to read that Scotland's Economy Secretary, Fiona Hyslop, wants this country to be "brave and bold" emerging from lockdown by accelerating the shift towards a greener economy and embracing, "a revolution in economic thinking".
Agreed. But that needs a revolution in democratic thinking first. To break with Boris's likely and lazy endorsement of the status quo the Scottish Government must abandon a great many convenient fixes, study how a focus on the "foundation economy" – food, shelter, warmth and care – lets other societies do better, devise and debate a plan, then intervene morning noon and night to get the new model up and running. The danger is that the Scottish Government falls back on tried and trusted players because they talk big, look visible and will employ lots of people in reassuringly large, headline-grabbing ways.
A just, green recovery doesn't just mean more cycle lanes while the big bucks go to the usual suspects. It means dismantling public procurement rules that favour big, undercutting, remote firms over small, locally-based firms and social enterprise.
Ahead of tomorrow's Holyrood debate about the post-Covid economy, the Scottish Community Alliance has proposed a New Deal for Communities with £200m of investment to ensure a national recovery is locally rooted this time and not a repeat of 2008 when investment was absorbed by banks instead of the real economy.
For a real "revolution in economic thinking," the Scottish Government must favour small over big, diverse over one-size-fits-all, local over national and Green over what's "ae been". New Zealand's wellbeing budget shows what resilent economies can do because a strategic, regulated, negotiated, evidence-led, hyper-local approach is already in place.
Boris may be able to sell his chaotic, standards-free deregulated dream in England. But piecemeal change here after such a hopeful vision from Fiona Hyslop would be a terrible disappointment.
Comments
 0 comments
Want to join the conversation? Please or to comment on this article.